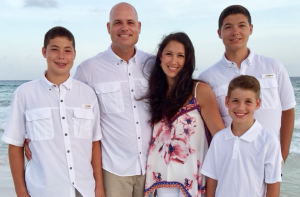 Liberty Christian School announced Thursday its new head football coach, Steven Greek.
Greek most recently coached football at Prestonwood Christian Academy in Plano for nearly a decade, where the school won four state championships, according to a news release. Greek served as assistant athletic director, assistant head football coach and offensive coordinator.
"Liberty is a special place, and Coach Greek is a special individual – it's a great fit," said Headmaster Blair McCullough in a prepared statement. "He has a strong reputation as a godly leader who brings out the best in his players, and I believe his plan for Liberty will impact our entire community. We are blessed to have Coach Greek and his family join our Warrior family."
After four years of serving as head coach of the Liberty Christian varsity football team, Barton Hundley was reassigned last month to other duties at the Argyle private school.
In a statement, Greek said he was attracted to the job because he wants the team to "have a lot of fun with an exciting up tempo and aggressive style of football."
"We believe we are going to do some special things and win a lot of games along the way," Greek said. "We especially appreciate the core values of this school and what it stands for – honoring Christ in academics, the arts and athletics."
Greek said he hopes to further Liberty's "amazing tradition and pursuit of excellence that has been created and established by the leadership of this school for well over 30 years."
"In football, Coach Bowles, Coach Price, and Coach Hundley and their staff have built something extremely special over the years, and we want to dive in and immerse ourselves in this program, working alongside the amazing staff and coaches in developing students into Champions for Christ as they learn how to be the absolute best they can possibly be," Greek said.
A diverse committee consisting of parents, alumni, board members, and administrators, along with the advising support of professional athletes and coaches, came together more than a month ago to begin the searching process and saw more than 40 applicants for the position, according to the news release. Members of the committee created a mission statement to guide their search that said, "We define a victorious program as the integration of excellence through strong leadership, spiritual guidance, athletic success, and school-wide community."
Upon completion of the search, the committee unanimously recommended Mr. Greek as the Liberty Christian Head Football Coach.
As a multisport athlete in high school, Greek went on to play basketball at the college level at Texas A&M University at Kingsville, according to the news release. His coaching positions prior to Prestonwood include the football offensive coordinator and assistant basketball coach at Bishop High School near Corpus Christi, assistant varsity football and basketball coach at Harlingen High School near Brownsville, and the area representative for Fellowship of Christian Athletes for the Lower Rio Grande Valley, which saw the highest growth for FCA under his leadership.
Coach Greek and his wife, Daisy, along with their three sons, Daniel (9th grade), Nathan (7th grade), and Joshua (4th grade), look forward to making Liberty Christian School their new home in the coming weeks, the news release said.
"As parents, we are thrilled to know that our kids are going to be immersed in a Christ-centered educational environment," Greek said. "It excites us to know they will have Christian teachers and coaches who will love, guide, and push them – and athletically to have access to some of the finest resources, youth programs, and facilities in the country. To say we are thankful and excited is an understatement. We cannot wait to begin the transition as a family and get to work alongside the amazing teachers, coaches, and people in and around Liberty Christian School."
LCS will host a meet and greet with Coach Greek and his family at 6 p.m. on Jan. 24 at the school.