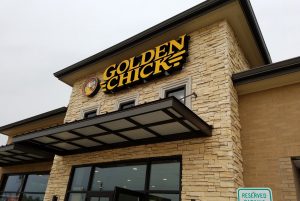 The town of Flower Mound welcomed seven new businesses in December.
The town updates a list of its newest businesses every month on its website. The following businesses were issued a Certificate of Occupancy by the Town of Flower Mound within the last month:
7-Eleven, gas station and convenience store, 860 Long Prairie Road
Cheer Dental, dentist office, 2704 Cross Timbers Road, Suite 108
Eye Level of Flower Mound East, tutoring and educational services, 2608 Flower Mound Road, Suite 116
Golden Chick, fast food restaurant, 4150 Justin Road, Suite 120
Haag Engineering Co., forensic engineering and consulting office, 1410 Lakeside Parkway, Suite 100
Mazzola's Italian Pizzeria, 1913 Justin Road, Suite 101
The Flour Shop Bakery, 6100 Long Prairie Road, Suite 200
For more information about these businesses, including their phone numbers and websites, click here.