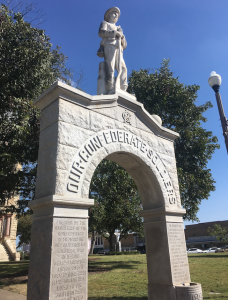 Denton County residents will have two more opportunities to speak their mind about the future of the county's only Confederate monument.
In the fall, the Denton County Commissioners Court created the Denton County Confederate Monument Committee to research the history behind the monument in the Denton Square. That committee announced in a news release Tuesday that it will host a public forum on Jan. 18 and 25 to get "public input to help shape its final recommendation to Denton County commissioners."
The committee is apparently considering either moving the statue from the Square, but not destroying it, or keeping the statue where it is, but adding historical context.
The Jan. 18 forum will be held from 6:30-8:30 p.m. at the Martin Luther King Jr. Recreation Center, 1300 Wilson St., Denton. The Jan. 25 forum will be from 6-8 p.m. at the Steven E. Copeland Government Center, 1400 FM 424, Cross Roads. Speakers will be limited to three minutes.
The Denton County Confederate Soldier Memorial stands as a small archway on the south side of the courthouse, supporting the portrayal of a young Confederate soldier standing on top.
Pressure escalated to move or remove Confederate statues and memorials across the country in August, after the deadly confrontation between a group of white nationalists — who were protesting the movement of a statue of Robert E. Lee — and counter-protestors in Charlottesville, Va., according to the Associated Press.
Later in August, many people spoke at the Denton County Commissioners Court meeting, urging the commissioners to move the Confederate Soldier Memorial away from the courthouse. Generally, those who want monuments and statues moved, or removed, believe they honor or glorify a political movement that proposed the continuation of enslaving African-Americans.
"We've heard from a variety of residents [on both sides of the issue]", Precinct 4 Commissioner Andy Eads said.
It's the only Confederate monument in Denton County. The Daughters of the Confederacy erected it in 1918.
A nearby plaque explains the monument to be: "a reminder of historic events and is intended as a memorial to Denton County citizens who sacrificed themselves for the community. Now, let this be a testimony that God created all men equal with certain inalienable rights. We are all one, citizens of Denton County."
The text on the monument itself says it is: "in memory of our confederate soldiers, who in heroic self-sacrifice and devoted loyalty gave their manhood and their lives to the South in her hour of need."
The committee will make a recommendation to the court about how to "display it in proper context."