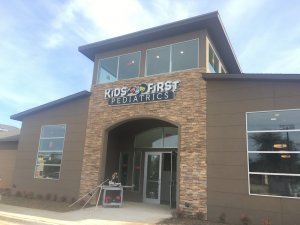 A Highland Village pediatrician's office is preparing to move down the street into a new building.
Kids First Pediatrics, currently located at 2280 Highland Village Road, will soon move into a new building along FM 2499 near the intersection with FM 407.
Dr. Tricia Sias said Kids First wanted to expand to a bigger office in a location "more central for most of our patients."
The new building will have more bathrooms and patient rooms, which should help reduce wait times for patients, Sias said.
Kids First updated its logo about a year or two ago, Sias said, and the new building has a more updated look and will tie in with the new logo better.
Kids First will be closed on Saturday, Jan. 20, so it can move to the new building, where it will open for business on Monday, Jan. 22.
Kids First has four physicians — Drs. Marla Conger, Kalpana Kelkar, Susan Badaracco and Sias — two nurse practitioners — Missy Nicholson and Leigh Gistinger — and one physician's assistant, Sarah Caudle. Kids First, which Conger established over 20 years ago, treats patients from birth to 25 years old and is open from 7-7 Monday-Thursdays, from 7-5 on Fridays and 9-2 on Saturdays. It received the Best of Denton 2017 award for best pediatric office in Denton County.
In addition to routine well care and sick visits, we also offer mental health and ADHD visits and also perform procedures such as simple laceration repair/suturing and circumcisions. The office also offers breast feeding consultations, and staff can be called to the Flower Mound Texas Health Presbyterian Hospital to see newborns. It also offers a patient portal, so parents can send in questions after leaving the office, and it has a 24/7 free nurse advice phone line for after-hours questions.