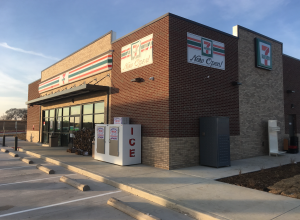 One 7-11 store and gas station opened in Northlake last week, and another is expected to open soon, adding to the growing town.
The first one opened on Friday in the northwest corner of the intersection of Hwy 114 and Dale Earnhardt Way, just east of Interstate 35W, according to Town Administrator Drew Corn.
The second 7-11 is expected to open at the end of this week or the beginning of next week on FM 407 in front of the Harvest neighborhood.
Also coming soon to Northlake is an IHOP restaurant on the northeast corner of Hwy 114 and I-35W, Corn said. It's expected to open at the end of the month or early next month. Also coming to that part of the intersection is a 15,000-square-foot retail center.
In the southeast corner of that intersection, a Holiday Inn Express hotel, Popeye's restaurant and more businesses will be coming, Corn said.