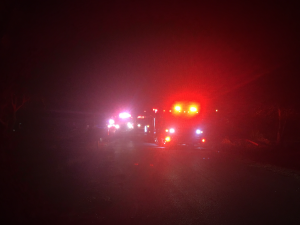 A mobile home fire drew a large emergency response Tuesday night near Argyle.
The two-alarm fire was called in at 7:25 p.m. in the 4200 block of Thousand Oaks Drive, located southwest of Frenchtown Road and Hwy 377.
Flames were showing when fire crews arrived, according to Argyle Fire District Chief Mac Hohenberger. Tens of fire vehicles, lights flashing, lined Thousands Oaks Drive and nearby streets.
Hohenberger said no one was injured in the blaze, and firefighters were able to save the interior of the home and much of the residents' belongings. The cause of the fire was not immediately available.
Flower Mound, Justin and Roanoke fire departments assisted.