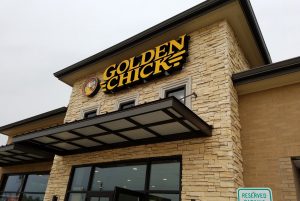 A new fast food chicken restaurant has opened on FM 407.
Golden Chick opened Wednesday at 4150 Justin Road, Suite 120, at the concourse of the borders of Copper Canyon, Double Oak, Flower Mound and Highland Village.
"This Golden Chick location is the perfect addition to this Flower Mound community," said franchisee Gene Gumfory. "I'm extremely proud to be able to offer our neighbors a dining experience they simply can't find anywhere else.
Golden Chick was founded in Texas in 1967 and has 179 restaurants in Texas, Oklahoma, the southeast, and even two locations in Pakistan. The company prides itself on its Golden Tenders and Golden Fried Chicken. The new eatery, which has a drive-through, will be open from 10:30 a.m. to 10 p.m. daily.