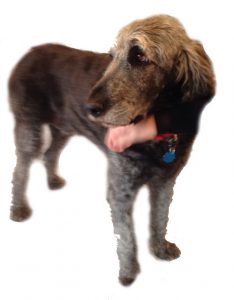 My BFF from back in the day
Invited me for a 4 day stay.
Her little boy was now a man
And had asked a maiden for her hand.
Now, my friend Jane, who is a vet
Has one enormous dog for a pet.
The size of a pony, the dog's name is Val
But you couldn't ask for a gentler pal.
Just two weeks before the wedding date,
Poor old Val had lost her mate.
After being together for seven years
Leo had died and left Val in tears.
But the show must go on despite a slight chill
At my best friend's house high on a hill.
She lives in KC in a home that is fine.
A lake shimmers below it where geese come to dine.
Weddings are precious, exciting and glorious things
Where friends and family bear witness to the exchanging of rings.
They're certainly all different when it comes down to vows
Some are said silently, some said out loud.
The scene was breathtaking and just right for their pledge.
The venue was set with white chairs lining the hedge.
The day before the weather was nothing but glorious
Making the unfolding of two hundred chairs not so laborious.
But as luck would have it, the eve of the wedding
The weatherman warned of a storm and its heading.
Everything changed in the blink of an eye
And a huge tent was thrown up while the workers all sighed.
But they hurried and scurried and made all things right,
Including a center aisle with an altar of white.
The wedding party walked tall amidst the tables around
And while the nuptials were said there wasn't a sound.
With all of the frazzle and drizzle about
Someone was forgotten, someone was left out.
So when the front door opened just wide enough,
Val made her way down the aisle with the rest!
It couldn't have been more perfect even had it been planned
But I guess Val figured she'd best take a stand.
They say every wedding has its own special flavor
And certainly Val made this one to savor!
This is a true story that I experienced just a couple of weeks ago.  The dog's entrance had almost 200 people in stitches.  All she was missing was a veil!  It would have looked fetching on her 82 pound frame!