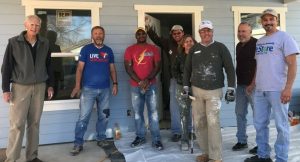 Habitat for Humanity of Denton County (HFHDC) is thriving with the support of local community partners.
On December 4, HFHDC welcomed John Montoya as their new Executive Director. Montoya comes from United Way of Denton County (UWDC) as the Director of Financial Capability Initiatives and brings with him a wealth of knowledge and relationships within the City of Denton.
"I am excited by the opportunity to lead such a vital non-profit that builds homes, community and hope," said Montoya.
Partners such as Denton's beloved Paul Voertman, who graciously gifted Habitat Denton County $300,000 in his last will and testament. Voertman has been an annual supporter of Habitat Denton County for as long as the staff can remember, and pledged an untold contribution when he visited the administration office in late 2016.
In his memory and honor, Habitat Denton County will magnify his donation by partnering with other local organizations and congregations within the community to ensure his generosity has a generational-changing impact for multiple families of North Texas.
The average Habitat home costs roughly $100,000, which the organization sells to future homeowners with a 0% interest loan. 
Habitat welcomes people of all origins, faiths, races and ethnicities to apply to be homeowners and work with them to further their cause. Their foundational principle is "Everyone deserves a decent place to live."
To celebrate this adage, HFHDC is partnering with several faith communities within Flower Mound and Lewisville to fund and build a new home for their next family partners, the Tarmos. This Interfaith Coalition has already raised 75% of the cost of a home, and has no plans to end there.
"Our goal is not how much can we raise for a home, but how many homes can we build?" said Brian Strohl, Habitat Board member and Interfaith Coalition Leader.
It is through partnerships such as the late Paul Voertman, collaborations like the Interfaith Coalition, strong leadership in John Montoya, and passionate staff and volunteers that Habitat Denton County has been able to change the lives of 97 families within the county, and plan for future homes such as the Tarmos.
If you would like to inquire to become a homeowner, make a donation, or to become a volunteer, please visit HFHDC's website at www.habitatdentoncounty.org.