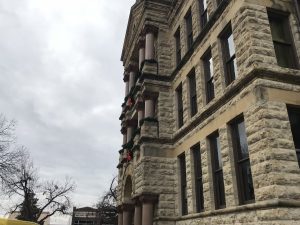 The Denton County Commissioners Court held an emergency meeting Wednesday to discuss the Downtown Mini Mall fire on the Square and how it has impacted the Courthouse on the Square.
With Commissioners Andy Eads and Bobbie J. Mitchell present, County Judge Mary Horn called the meeting to order at 10 a.m.
Horn said due to a wind coming in from the east at the time of the fire, the courthouse sustained smoke and soot damage. The building and museum will be closed until further notice. The Commissioners Court will meet at the Denton County Elections Administration building until the courthouse is habitable again.
Read more from The Lewisville Texan Journal.