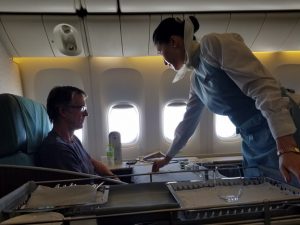 by Tamara Tejml Cuthrell
My husband and I love paying for flights with points and miles and we're sure to maximize the points we earn on nearly every purchase we make. But, as anyone who's tried to book awards flights knows, those "free" flights are often hard to find. Airlines tend to raise the amounts required for convenient times and schedules, offer less award seats on a flight than you need, or simply don't offer award flights at all on certain flights. Taxes and fees on some airlines and at certain airports (I'm talking about you, Heathrow!) can turn a "free" flight into an expensive proposition. For flights to Asia from DFW, Korean Air is the ticket.
It's hard to beat Korean Air for both award availability and affordability…and we love their product, too. Last year, we flew Korean Air First Class from Bangkok to Dallas via Seoul  for 95,000 Skypass Miles plus $204.77 each, flights that would have cost us over $13,000. [We only flew one-way because we used repositioning cruises to get to Asia. I'll write more about cheap repositioning cruises and how to find them in a future article.]  Being pampered with designer pajamas, a down mattress, duvet and big pillow, plus delicious food, high-end champagne and wine, and attentive service turned a miserably long flight into a pleasure. We enjoyed our Korean Air experience so much, I searched their flights again when I started planning an upcoming around-the-world trip. This time, I was able to book First Class again (DFW-Seoul-Singapore) for the same 95,000 miles each, but taxes and fees were a shockingly low $34.30 apiece. If we'd paid cash, our two tickets would have totaled $18,681.60! We could have booked business class for 75,000 each or economy of 42,500 each. Award availability was wide open in all categories. (Korean Air is partnered with American, but it would take 120,000 AAdvantage miles to fly business class just from DFW to Seoul on the same day and there was no First Class availability.) Korean Air flies to more American cities than any other Asian airline and flies to Hong Kong, Sydney, Tokyo and more, and Seoul itself is a fun, dynamic city.
We've found Korean Air Skypass Miles easy to accumulate using Chase credit cards that generate Ultimate Rewards (UR) points and SPG Starwood points we get from Starwood Amex. Starwood points give a 25% bonus when transferred to their airline partners, but the card and points may soon be phased out with Marriott's purchase of SPG. UR points are transferable 1:1 to Korean Air Skypass (and many other partners) and are especially easy to accumulate. Last year, Chase offered a whopping 100,000 sign up bonus for the Sapphire Reserve card and my husband and I both jumped on it. The Chase Sapphire Reserve is expensive at $450/year, but that is quickly offset for us by a very unrestricted $300 travel reimbursement that applies to a wide range of travel expenses: airlines, hotels, AirBnB, taxis, trains, rent cars, cruises, toll tags and more plus other valuable travel perks that more than make up for the remaining $150/year. The bonus for Sapphire Reserve is currently down to 50,000, which is still good, but I'd keep my eye open for another super bonus if you're a frequent traveler, or get the same 50k bonus with the Chase Sapphire Preferred for $95/year without some of the other perks. We use Chase Ink to get 5X miles on office purchases (with includes gift cards from Office Depot for Shell gas, Whole Foods, Amazon and more) and Chase Freedom Unlimited to 1.5X points on everything else. Those points are then combinable with our main UR Reserve accounts. It adds up! 
Tamara's travels have taken her to 67 countries and 42 states with more in the works. She blogs her many travels and travel tips at www.wanderwiles.com and welcomes questions. Contact Tamara at [email protected]