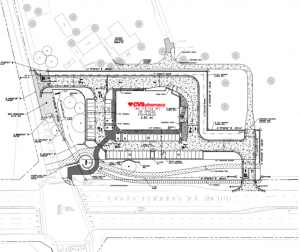 The town of Flower Mound is currently reviewing the initial submittal for a proposed site plan for a future CVS pharmacy on 1171 in west Flower Mound.
The proposed CVS store would be at the northeast corner of Lusk Lane and FM 1171, which is the current site of Jan Balekian's Flower Mound Pumpkin Patch and Christmas Tree Farm on the Double Oak Ranch. Balekian declined Tuesday to comment on specifics, but she said if the CVS is approved and built, it would not mean the end of the pumpkin patch and Christmas tree farm.
The property is currently zoned agriculture.
Once all items are resolved with town staff, the proposal will go to public hearings and seek approval at Planning & Zoning Commission and Town Council meetings, according to Richard Brown, senior planner for the town of Flower Mound.
If approved, the CVS would be about a mile down FM 1171 from a Walgreens.