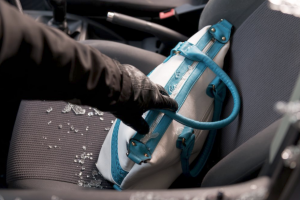 Flower Mound police want to remind residents to take extra precautions to avoid being a victim of a common Christmastime crime: vehicle burglaries.
On Thursday alone, Flower Mound police were called about five vehicle burglaries that totaled almost $5,000 in damage and loss, according to a department Twitter post. Three of the vehicles were in residential areas, one at a park and one was left running in front of a business. All but one of them had been left unlocked.
Two vehicles were burglarized on Homestead Street, near Lamar Middle School in northeast Flower Mound. A GPS and $160 cash were taken from one vehicle, and property valued about $160 was taken from a work truck.
Nearby, a vehicle parked in a driveway on Prairie Creek Drive was rummaged through, but nothing was taken.
Someone else left their vehicle running and unlocked in front of a business on Garden Ridge Boulevard, and their purse, containing items valued more than $2,600, was stolen from the passenger seat.
And at the Hound Mound park, 1200 Garden Ridge Boulevard, someone broke a rear window and stole a backpack from a vehicle. The items inside the backpack were worth more than $600, and the damage was about $600. The suspect later tried to make an online purchase out of New York with the victim's credit card, but was denied.
Remember to always Take, Lock and Hide: Take your belongings out of your vehicle whenever possible, always lock your vehicle when you leave it, and hide any belongings out of plain sight.