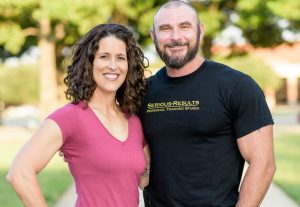 by Adam & Debra Hammett
We spend so much of our time doing things for others: keeping the marriage strong, "bringing home the bacon," making sure kids get to their activities, keeping the boss happy, taking care of the pets, taking care of aging parents….isn't it time to do something for yourself?
When most people think of doing something for themselves, they think of a brief vacation getaway, or a visit to the spa. But you can do something every day that is 100% for you and that will give you long lasting results.
Training.
More than just "working out," training implies you have a goal. You will get from here to there in a certain linear progression. Training is a way you can achieve new strengths, new speeds, and improved stamina. Training will increase your longevity. Training will create a new confidence in yourself or reignite previous confidence.
Working out is humdrum and monotonous; no end goal in sight.
When you are achieving your own goals, you are better able to provide for your loved ones. You can build a stronger marriage, you will have more patience with the kids and their activities, your boss and pets and parents will seem easier to please; all because you are more YOU.
What are you waiting for? There is no tomorrow. The time is now.
Adam and Debra Hammett own Serious Results Personal Training studio, now open in Parker Square. They have over 25 years of coaching experience in nutrition and training, including in-person and online options. You can apply for coaching at serious-results.com/work-with-us