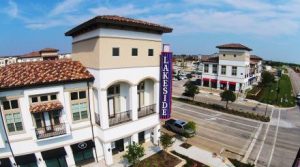 AT&T is currently working to improve its cell service in the Lakeside area, according to the town of Flower Mound.
As many Flower Mound residents may know, cell service suffers in the newly developed Lakeside for many, if not all, cell service customers. AT&T is expected to be the first service provider to improve their service in the new community, according to Assistant Town Manager Tommy Dalton.
The town is expecting to receive documents from AT&T this month seeking approval to begin installing small cell technology, or Distributed Antenna System units, to improve the service in Lakeside. DAS units are typically additional equipment added to existing or new utility poles. Dalton said the additional equipment is really only noticeable if you are looking for it.
AT&T also plans to add DAS units in two busy areas of town — around the intersection of FMs 1171 and 2499, and near Marcus High School — to "help offload a lot of the demand," Dalton said.
Dalton said the town "fully expects" AT&T to have received approval and begin work by January.
Texas legislature recently passed a bill that prevents small cell technology improvements in the public right-of-way without receiving approval from the town or city, Dalton said, adding that the town can only review requests that are submitted and can't force them to make these improvements.
The town has had preliminary discussions with Verizon about improving its service in Lakeside, but it hasn't heard from the company in a while, Dalton said, adding that Verizon had expressed interest in a cell tower just south of Post Oak Park.
Dalton said the town hasn't heard from T-Mobile, and Sprint isn't considering the small cell technology, based on the town's interactions with the company. All of the companies are aware of the cell service problems in Lakeside, he said.