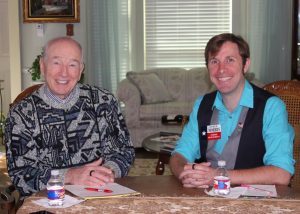 With two announced Republicans running for Texas State Rep. in the 64th District, we now have a Democrat candidate in the race.
Andrew Morris wants to serve in the Texas House to better address voters' concerns for education and healthcare. Recently, he came over for a video interview to tell voters more about himself and his goals in this campaign. The following info was provided by the candidate:
"Andrew is a well-traveled global citizen, being a British subject by birth and an Australian national by naturalization before earning American citizenship in July 2015. He married a native Texan in 2010 (as they say, "I wasn't born in Texas, but I got here as quick as I could!") and resides in Argyle, TX with his wife and their four mischievous cats.
"Andrew earned a BA in History & Political Science from Monash University, Australia, as well as another BA (History) and two MAs (History and Technical Communication), from the University of North Texas. His passion lies in politics, and he has been active; registering voters in 2014; volunteering on city council races and accepting a role as Campaign Manager for Linsey Fagan, prior to launching his own bid for House District 64. Andrew has worked in Higher Education Administration as well as a Technical and Proposal Writer for companies within the Computer Software and Federal National Defense and Space industries.
"Andrew believes in the power of education, which is the centerpiece of his platform. With education comes more informed and better prepared residents of Denton county and Texas overall. This provides a competitive advantage within business, ensuring Denton County remains one of the top counties in Texas and the United States to invest and prosper. Healthcare also plays a huge role in this equation, which means finding pathways and partnerships to reduce healthcare costs, expand healthcare choices, and ensuring that all who require healthcare can receive it in a timely and cost-efficient manner."
His campaign website can be found at www.morrisfortexas.com and he is active on Facebook (facebook.com/morrisfortexas) and Twitter (@MorrisforTexas). Andrew says he looks forward to meeting as many of the residents of House District 64 as possible to share his vision and build consensus towards what all families want; a good education, affordable healthcare, and plenty of opportunities to work, thrive, and prosper.