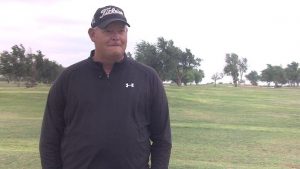 Mark Burgen, in his first year with the Argyle school district, resigned from his position as head golf coach at Argyle High School late last month.
Burgen joined Argyle this July after being relieved of his coaching duties at Andrews High School in West Texas last school year following six consecutive state championships.
AISD Superintendent Dr. Telena Wright confirmed that Burgen has left the school district.
"He was placed on administrative leave on Nov. 27," Wright said. "He resigned on Nov. 28."
Wright did not go into specifics about why Burgen was placed on administrative leave, but did confirm that he had not been terminated.
"That is a personnel issue," Wright said. "It is confidential, and I can't discuss it."
Burgen was suspended at Andrews High School during the 2016-17 school year following an alleged incident in which he "committed a Class C misdemeanor of using a wireless communication device in a school crossing zone or while operating a school bus with a minor passenger," according to an article from the Odessa American.
Burgen eventually left the school for the Argyle coaching position.
Wright would not comment on whether any such or similar incident had occurred at Argyle High School.
"All I can say is that it is a personnel issue and I can't discuss it," Wright said.
The AISD Superintendent said that former boy's coach Brady Bell will resume coaching duties for the boy's team through the spring semester.
Bell assumed a new position within the AISD this year as the Assistant Principal at the district's Intermediate School, and Wright said he has agreed to take on both roles for the duration of the school year.
"We have already posted for a part-time girls coaching position," Wright said. "Brady Bell will coach the boys team through the spring, but not beyond that."