A Flower Mound woman who recently lost her parents and battled depression got a "clean start" this year and overcame many obstacles to complete the New York City Marathon.
Ivonne Maxwell's father died in January 2016, and then her mother died two months later. Around the same time, she lost her job. Maxwell said she battled depression and gained weight because of the grief and stress. She lost her love for running.
After going through that dark period, Maxwell found a new job she liked, and she started running again in August. But in November, she broke her fibia while running, another obstacle for her to overcome.
Maxwell had run several half-marathons and one full marathon before, and she made the 2017 New York City Marathon her goal.
But the marathon has far more applicants than available spots, and Maxwell didn't get in.
That's when she got an email from Powerbar, asking if and why she wanted a "clean start." The company had 17 spots in the marathon that it wanted to give to its "Clean Start Team," 17 deserving runners who had overcome or were overcoming setbacks. Of nearly 850 entries, Maxwell was one of the 17 chosen to get a clean start and cross one of the most famous finish lines in the world.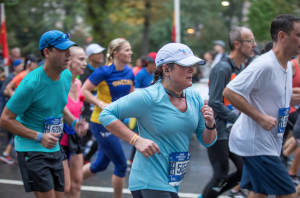 On Nov. 5, Maxwell took off from the starting line, and during the first half of the 26.2 miles, "I was elated," she said.
But more obstacles arose about halfway through. Her watch gave out, meaning she didn't know if she was still on pace for her goal of finishing in under five hours. Then she got discouraged at Mile 19 as she started experiencing foot pain.
"I started walking through water stops," she said. "I was upset."
She was thinking that she doesn't want to run any more marathons.
But at Mile 23, "something happened."
"A switch went off, my pace was really good, and I crossed the finish line so happy," she said.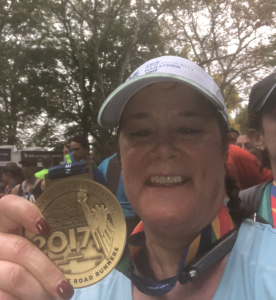 Maxwell, a quality assurance analyst who has lived in Flower Mound about 12 years, said now, she wants to do it again, and more.
"It makes me happy that I'm where I was before," she said. "I'm challenging people at my work to do the Cowtown half-marathon, and I want to do the Chicago Marathon. This really empowered me."
Maxwell said she learned a lot about grief, depression and getting a clean start.
"Don't think about what all is ahead of you, just try to accomplish this one thing," she said. "The little things add up."
Maxwell said that for other people going through similarly dark periods, they should know that "it gets better, but it takes time."
"Put one foot in front of the other," she said. "It's a cliché, but it's true."