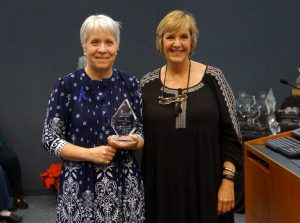 Flower Mound leaders announced the recipients of the 2017 Flower Mound Outstanding Citizenship Award during Monday night's Town Council meeting.
The award recognizes an outstanding individual and group organization that demonstrates exemplary service to the community, according to a town news release. Four groups and nine individuals were considered for the award.
Marilyn Lawson was recognized with the Outstanding Citizenship Award, the news release said. A Flower Mound residents of more than 20 years, Lawson has tirelessly devoted her time to helping make Flower Mound a beautiful place to live, the news release said. Lawson has volunteered with Keep Flower Mound Beautiful since 2005, and has been president and treasurer since 2010, organizing numerous community clean-ups, recycling initiatives, and environmental fairs over the years.
In 2013, Lawson founded the Lend-A-Hand program, which helps homeowners that are unable to take care of home repairs due to age, illness, or loss of income. Earlier this year, she was instrumental in securing the 2017 Governor's Community Achievement Awards for KFMB, resulting in an upcoming $250,000 landscaping project along a local TxDOT roadway in Flower Mound.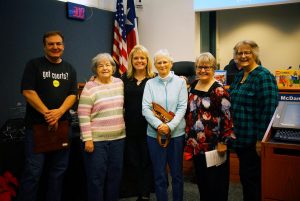 In the group category, the Flower Mound Garden Club was recognized with the Outstanding Citizenship Award, the town news release said. The Club formed in 2015, with a few simple goals in mind – to help promote an interest in gardening; spread beauty; educate productive gardening; and foster civic pride in houses, condos, and apartments in the town.
The Garden Club meets on the third Tuesday of every month, and often includes expert speakers, demonstrations and project planning, the news release said. The group participates in Keep Flower Mound Beautiful events, like the spring and fall Trash Bash and Environmental Fair, and also maintains a flower bed at Parker Square Park. For more information, visit the group's Facebook page here.
Award winners will have their name placed on a wall plaque displayed at Town Hall as well as receive a trophy, an engraved brick at the Library and other honors.