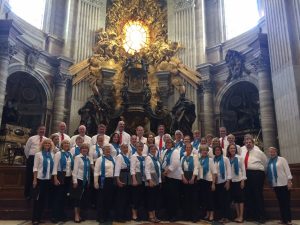 Local residents can hear the music of the season at the Voices of Flower Mound annual Christmas Concert next weekend.
The local community choir will perform holiday favorites at two concerts with the Flower Mound Symphony Orchestra and the Trietsch Cancel Choir on Dec. 9 at 7 p.m. and Dec. 10 at 2:30 p.m. at Trietsch Memorial United Methodist Church, 6101 Morriss Road.
Tickets are $10 for everyone 11 and older, and admission is free for kids 10 and under. Tickets can be purchased in advance here or by cash or check at the door.