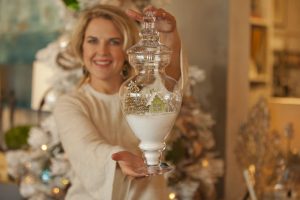 According to the Pew Research Center, nearly 70-percent of Americans say their favorite part about the holidays is spending time with family and friends.
During the hectic holiday crunch, ways to simplify the many tasks on your to-do list is a must.
Local decorator Christine Beck of Décor to Your Door in Highland Village added some insight to the list of holiday decorating ideas below.
Get Organized Early
If your seasonal décor is stowed-away in the garage or attic, dust it off and get it untangled before the day you plan to do your actual decorating. Locating these items and getting them prepped to be strung and hung may be a job in and of itself, so don't get overwhelmed by trying to make it all happen in one day.
Deck the Dining Table
Get your dining table holiday-ready by purchasing staple décor pieces that can be rotated throughout the year. Fill glass vases with seasonal items such as ornaments, holly, faux snow or pinecones. Add extra light and warmth to the table with a flameless LED pillar candle. Place tea lights in small vases filled with cranberries, holly and water for an inexpensive and festive way to decorate the table.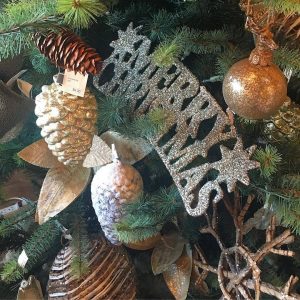 Decorate the Tree
"Vintage and natural are in, but silver and gold are still tried and true for ornaments," said Beck. Trends are "vintage, shabby chic, pops of color including turquoise."
If you're looking for a fun way to get kids involved in holiday decorating, purchase plain ornaments for them to design with paint or pens. Clear ornaments can be filled with glitter or tinsel to create a unique look for your tree. Decorated ornaments also make great and thoughtful gifts.
Embellish your tree by adding red or burlap ribbon from the top of each side and adding a topper. Then, consider coordinating the color scheme of your tree with gifts, using those that were wrapped early as decor throughout your house.
When it comes to the age-old debate over real vs. artificial, Beck said, "Everyone still likes a real tree but flocked trees are huge this year and now being offered on real trees."
Deck the Front Door
Make a DIY wreath by gluing bows or pinning ornaments to a foam wreath. Designing your own door decor doesn't have to be expensive, and it will allow you to add your own personal touch to your home's entryway. Complete the look with festive outdoor lighting. Some of the new LED lights can be controlled by your smartphone.
Design a Festive Mantle
Decorate your fireplace mantle for the holidays without spending much time or money. Wrap a garland in mini string lights and hang leftover ornaments to continue the theme from your tree. Create handmade bows to place at each end of the mantle using your choice of ribbon. If you don't have a mantle, you can create a fireplace-like space with a cluster of string lights or LED candles in a nook of your home. Then, remember to hang the stockings!
Create a Cleaning Game Plan
"Package well and organize and label by color," said Beck. "This way you can only get out the theme or colors you want to use for the year and leave the rest in storage." 
Create a day-by-day cleaning game plan, focusing on one area of your house at a time. This will save you stress and allow you more time to get organized. Be sure you're stocked up on all your holiday prep cleaning supplies, including sponges, microfiber cloths and wet mop refills.
Remember, getting into the holiday spirit doesn't have to break the bank. Save time and money decorating your home, so you can spend more stress-free moments with friends and family.