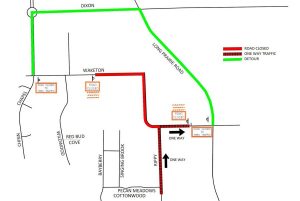 A Flower Mound road project that was expected to be completed by October is now expected to be finished in February.
The project began at the beginning of June and shut down sections of Waketon and Rippy roads to upgrade the existing asphalt road to concrete, straighten out tight curves and eventually add a roundabout at the intersection at Waketon Road and Chinn Chapel Road.
The town originally expected to be complete the project in late September or early October, but the town had to wait for franchise utilities to relocate their lines in the area, according to the town, delaying the project about four months.
"CoServ is still working on relocating their lines and Spectrum acquired the approval from CoServ to relocate their lines to CoServ's poles," said Tiffany Bruce, Flower Mound's engineering manager. "Fortunately, the lines are no longer in the Town's way and work has started on the 16-inch water line on Waketon. Following the water line's installation, crews will complete the rest of the stormwater system, followed by paving."
Waketon is closed to thru-traffic from FM 2499 to Chinn Chapel Road. Southbound Rippy Road is closed from Waketon Road to Pecan Meadows, and northbound Rippy Road will remain open allowing resident access to the FM 2499/Waketon signal. Traffic is being detoured to Dixon Road for the project duration.