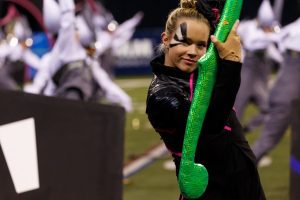 High school band directors like Flower Mound's Brent Biskup and Marcus' Amanda Drinkwater always hope their students' last performances of the year are their best and let the results fall where they may.
That certainly proved true for both in 2017 this time at the country's biggest setting.
Marcus placed fourth and Flower Mound fifth in the prestigious and always-tough Bands of America Grand Championships on Nov. 11 at Lucas Oil Stadium in Indianapolis. That was one spot better for each from their previous trip to Indiana, Flower Mound in 2014 and Marcus in 2013. Marcus also placed fourth in its only other Grand Nationals' performance in 2009.
"It was very cool. We were very excited," said Biskup. "It's very special. We're blessed in this area to have a lot of great music programs. When you talk to people about having the opportunity to go to the grand nationals and finish fifth; sometimes we're spoiled here. Marcus has done it before, Hebron has done it before. But it's a really incredible thing. And it was incredible to have Marcus, which is just three miles away, to finish fourth.
"Our scores were .075 away from each other (95.700-95.625). The minute it was announced I ran over to Amanda and said, 'we just scored the same thing.' It was amazing. We were excited for the community and excited for the kids. It's really a great accomplishment."
That was just the first of two major achievements that night for Flower Mound, which minutes later was selected to perform in the 2019 Tournament of Roses Parade in Pasadena, California. While Biskup knew his school was being considered, neither he nor his students learned they were chosen until it was announced to the crowd.
"We're excited for the opportunity," Biskup said. "It's a huge honor. For music teachers, it's something that goes on your resume, of course. But, it's more than that … where we can take the whole band program and have a great experience and not be in a competitive environment.
"It's hard, because we live contest to contest and to have the opportunity to go and do something that's such an honor and not be a competition and everyone can watch on TV and see all these different things is great. From what we've heard, it's a pretty special situation."
More than 100 bands from across the country – including six from Texas – started the competition with two days of preliminary performances. The top 37 advanced to the semifinals, including all the Lone Star State's bands. Four Texas schools were among the 12 finalists with Carmel, Indiana, taking the overall title. Broken Bow, Oklahoma, was second and Avon, Indiana, was third.
Just a week earlier, Flower Mound took sixth place and Marcus seventh in the BOA Super Regional at the Alamodome in San Antonio. Fellow Lewisville ISD school Hebron placed second, behind San Antonio's Claudia Taylor Johnson.
"The finish is where it is. We don't have any control over that," Drinkwater said. "We always joke you can't compare scores across regionals. You can't even compare yourself to yourself. Every single performance is unique. The scores are decided by someone else.
"We improved a ton from BOA in San Antonio and Indianapolis. We had a little challenge in the preliminaries when they got confused by the different hashes. The next program was really strong, but with a couple of major errors, so they really wanted to have one more shot and that's when they just knocked it out of the park. It was just great."
Like Flower Mound, the Marcus band saved its highest scores of the 2017 season for the final performances.
"There were many challenging aspects that pretty much took the whole season to coagulate," Drinkwater said. "They never quit. They just kept getting better. It was a great season."
The Marcus program was titled "prODDigy."
"It was intended to highlight a familiar narrative in the lives of teenagers and all Americans' sense of being different with our own insecurities and own special gifts," Drinkwater said. "We set out to highlight the music of composers who were prodigies in their own right, but sort of social outcasts."
It featured the compositions of Sergei Rachmaninoff and violinist Niccolò Paginini, both of whom had elongated fingers and hands, that Drinkwater said actually helped them succeed in music. Visuals included bouncing eyeballs, oversized, non-traditionally-toned violins and an inverted piano.
"We set out to take the music as a loosely Cloud-based narrative for the program, to try to make it relatable to the students musically," Drinkwater said. "We then loosely drew a parallel to Tim Burton's take on Edward Scissorhands. We began thinking of his characterizations and visually we were inspired by this ideal of darkness. Black was a primary color in the program."
Flower Mound's show was titled "Fractured Moments," a play on the FM for Flower Mound. It was about the mosaic art work of Antoni Gaudi.
"We start in gray scale uniforms, then as the show went on, we went through a change of costume and a lot of color was introduced," Biskup said. "Each of the sections had different colored uniforms. Then, at the end, we created a mosaic with the students on the field."
Both directors applauded not only the students, but the parents and other volunteers who helped with the many logistical aspects of such a trip.
"Every aspect of that performance had to be supported in some way by one of our parent committees. Everything from the uniforms to the props to the logistics, the horns and the costumes, everything required there meant many hands on deck," Drinkwater said. "Many of those parents who went up there were on a working trip for five days. Many of them were there almost exclusively in a service role and didn't even get to sit and enjoy the show at any point because they were just serving.
"It's so humbling to have such an organization with an engaging parent group to even consider that undertaking. They just didn't make it great, they made it possible in the first place."