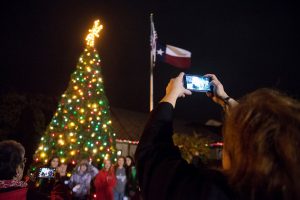 There is something for every Christmas fan in southern Denton County throughout the day on Saturday with three large local holiday events.
Beginning at 8 a.m., the Denton County Friends of the Family is partnering with the Denton County Transportation Authority to host The Holiday Express. Tickets are sold out for The Holiday Express train ride, but $15 tickets are still available for brunch and family-friendly activities at the "North Pole" — located at the Patterson-Appleton Arts Center, 400 East Hickory St. in Denton — from 9 a.m. to 1 p.m. Santa Claus may be there. Click here for more information.
As soon as that ends, Santa is headed to the Highland Village Fire Department, 12000 Highland Village Road, from 1-4 p.m. Kids can tell Santa what they want for Christmas, and there will be lots of family-friendly activities, including bounce houses, coloring, writing letters to Santa, temporary tattoos and having pictures with Santa. Popcorn, cookies and hot chocolate will be served.
Then, Santa will be at Keep Argyle Beautiful's annual Argyle Christmas Festival & Tree Lighting event, which kicks off at 4 p.m. at the Argyle Fire Station, 511 Gibbons Road South. The event will feature food, crafts, entertainment, activities for the kids, vendors and more. The tree will be lit at 6:30 p.m., and the event ends at 7 p.m.