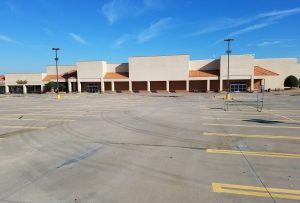 The Highland Village Town Center will soon house a community of home décor and fashion shops in the vintage market known as Painted Tree Marketplace.
The new tenant will take up residence in 38,230 square-feet of the space vacated in November 2016 by Kroger in the Highland Village Town Center.  Kroger occupied a total of 61,374-square-feet.
"We are excited to bring Painted Tree Marketplace, a collection of unique home décor and apparel from local boutiques, decorators and artisans, to Highland Village Town Center. This award-winning retail concept will bring a fresh product offering to the community, and add vitality to this well-located shopping center at the corner of Justin Road and Highland Village Road," stated Matt Ryan, Brixmor vice president of leasing.
Painted Tree Marketplace is currently located in North Richland Hills and two locations in Arkansas. The Marketplace provides the space for local shop owners, boutiques, artisans, decorators, and craftsmen to sell their products. The Marketplace also offers workshops and classes for the aspiring artist.
The Highland Village Town Center was zoned as retail when it was built in 1995 which allows for this type of retailer, town officials said. The demolition permit has been submitted by the owner to prepare the space for finish out for the retailer. Painted Tree Marketplace will submit for a finish out permit to address health and safety issues for the required city certificate of occupancy for the retail space.
It is anticipated the Highland Village Painted Tree Marketplace will open in the spring of 2018.
"We are looking at a complementary tenant for the remaining 23,000 square-feet. Once the anchor spot is filled the remaining vacancies will begin to fill in," stated Carter Butler with CBRE.
Board and Brush, a Do-It-Yourself wood sign workshop retailer featuring hands-on workshops for parties, corporate events and fundraisers, also recently opened in the Highland Village Town Center.