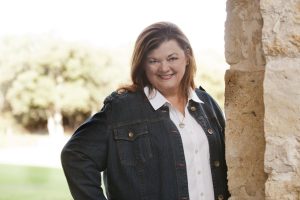 Faith sustained Job through all his trials. In today's secular wording, it boils down to: "when bad things happen to good people."
Former Donald Elementary Principal Cheryl Close of Copper Canyon personally understands living through adversity.
As a child, her parents divorced, "that wasn't done back then." Her mom remarried and had two more daughters before the family moved from Ohio to Texas.
"We didn't have much and sometimes we would eat food uncooked, because we were so hungry we couldn't wait for it to be cooked," Close remembered.
She met her husband, Van, the "love of my life" when she was 15-years-old and they married when she was 19. The couple had their only child, a daughter, Vanessa.
On Nov. 13, 1999, Vanessa was driving at night from Stephen F. Austin University in Nacogdoches, where she was a freshman, to meet her parents in College Station to put down a housing deposit for her transfer to Texas A&M as a pre-med sophomore.  She fell asleep within sight of her exit ramp and died in a one-car accident; she was within a minute of meeting her parents at the hotel.
After 20-30 minutes, Close called her daughter's phone and a man answered. It was an officer who told her over the phone that Vanessa had died in an accident; which is not now– or then– an official protocol.
"At that moment, the pain is so bad that you just want it to go away," she said. "You 'what if' yourself to death, which is natural, because you want it to change. As a parent, you warn kids about stranger danger, don't do drugs, don't drink and drive– but I never thought to tell Vanessa about the danger of sleepy-driving."
On Dec. 1 that year, she and Van had decided to mark their wedding anniversary by going out for dinner. When they returned home, they found a wrapped present at their front door. The card said the sender knew there wouldn't be a Christmas celebration that year, but it was hoped that what was inside would help them get through the season.
A complete 25-piece nativity was inside, with each piece numbered to be opened one-day-at-a-time; the baby Jesus was the final piece. It was the perfect gift for that season.
Her subsequent clinical depression and using food for comfort caused her weight to balloon up to such a level that she was eventually confined to a wheelchair.
"I was a principal at Donald Elementary and a teacher and I was the one who helped people," said Close. My staff and friends brought us dinner every night for three-months and they drove me to and from work … I couldn't drive, because I had panic attacks."
At some point, Close realized she couldn't stand the thought of her husband losing both his daughter and his wife, so she, "learned to create a new normal and learn to live with the hole that's there. You do it one minute, one day at a time."
Her weight gain also delayed the knee replacement surgery she required as a result of her arthritis. It also required her to be on oxygen for her asthma.
Close was able to exercise only in water with its buoyancy support. The first attempt at exercise left her breathless trying to walk one 25-meter lane in the pool; it took her 30-minutes. Within a year, she was walking 66 laps wearing weights and she'd lost 60-pounds.
Then, she was diagnosed with stage one breast cancer, which was found during an annual exam. Following her cancer treatments, she's now five-years cancer-free.
Eventually, Close had lost enough weight to have her knee-replacement surgery, but it was discovered that her femur was cracked and she spent eight-weeks immobilized from her hip to the ankle.
"After having spent seven years in a wheelchair and with my knees, I had no muscle strength– muscles atrophy if they aren't used– and I'd lost my 'vertical,'" she said.
Working to regain her ability to be able to walk again, she fell three times in two months last year which resulted in two protruding disks in her back and torn ligaments in her ankle. Again, Close worked hard and was able to dance with her husband last May for the first time in 25 years.
So far, she's lost almost 200-pounds and her wheelchair is out in the garage. As she says: "I'm still a work in progress."
"I've always felt I should help people," Close said. "As a teacher, I'd found out I was a good leader and worked to become a principal. After 9/11, things changed and being a principal is so much harder."
She initiated a Leadership Development LISD program to support administrators, which she led for three years.
Needing to expand her ability to serve others, she opened her own firm– Close Coaching & Consulting, to share leadership development skills in all types of businesses, not only in education.
"Now, I coach leaders in all different areas," she said. "I'm a 'thinking' partner for leaders and administrators. I listen, ask the right questions, become aware of what needs to change to get to something new, which will work for the entire business."
Close was also searching for a service organization with which to become involved and was invited to learn about the new Cross Timbers chapter of Rotary International; it was a serendipitous match.
"I had never been in Rotary, but I knew about the organization when it came to [its practice to] honor outstanding students," she said. "I especially like [Rotary's] 'Service Above Self' motto. And, this year we're hosting an Italian exchange student."
Close is one of 60 charter members– and serving as secretary for the second time– of the Cross Timbers Rotary Club, which began in August 2015. In its two-years, it's the fastest-growing club and supports 18 nonprofits, including Rotary Responders to help anyone in need, a mobile medical clinic in Africa and a trial hydroponic garden in Belize.
For the Thanksgiving season, Cross Timbers Rotarians join the Marcus High School group, Interact, and Market Street grocery store to provide Thanksgiving meals to the Salvation Army.
In spite of her many ailments and losing her daughter, Close is thankful for, "my husband, the friends who never gave up on me, my faith and my Rotary family."
For more information on, or to contact Close, visit: www.closecoachingandcounsulting.com email: [email protected], or call 469-323-6060.
For more information on Cross Timbers Rotary, visit: www.crosstimbersrotary.com or www.facebook.com/CrossTimbersRotary.