TOWN ANNUAL CLEAN-UP Saturday, November 11, 8am-12pm at Town Hall, 400 Woodland Drive
Copper Canyon's Annual Town Clean-up will be at Town Hall, 400 Woodland Drive, Saturday, November 11th, from 8am-12pm. Please do NOT leave anything at Town Hall after 12! The Republic Services crews and trucks must leave promptly at noon for scheduled Clean Up Days at other municipalities.  Please be prepared to show a driver's license or utility bill with address to verify your residence in Copper Canyon.
The detailed list of what items are acceptable – and what are not – was in the October "What's Happening" article. The article is duplicated on our town website www.coppercanyontx.com under "Mayor – What's Happening" in the upper left column of the home page.
Saturday. December 2nd, 3-5 p.m. Santa Party for Copper Canyon Kids at Town Hall.  (All children must be accompanied by an adult Town resident.)
The highlight of the Santa Party for our kids is always their traditional ride atop the big red fire engine of our Argyle Fire District!  Parents are welcome to ride atop the engine, too.  And our very fit and muscular firefighters will help adults safely up the vertical metal ladder on the rear of the engine.  If your child wants to ride atop the fire engine, be sure they have a jacket to wear.  Though the fire engine wanders slowly through our Woodlands subdivision, it can be breezy up on top.
For children who prefer not to ride on top, they can ride inside the cab and make the siren ring out!  (Many thanks again to the residents of the Woodlands who very good naturedly abide the repeated sound of the fire engine siren!)
Argyle Fire Chief Mac Hohenberger is a long time Copper Canyon resident and has always reliably provided the fire engine rides for our children's pleasure!  Unless – there is a fire call – and then the engine and firefighters must respond promptly!   Our Mayor Pro Tem Jeff Mangum is also a volunteer Fire Captain with the AFD, and he is always comes to help assist the children and their parents up atop the fire engine
Our Town Administrator Donna Welsh has been organizing this well attended traditional event for many years.  She provides a variety of crafts and fun games for the children.  Council Member and professional photographer Bill Castleman always donates his time to take special photos of each child with Santa.  Our Building Inspector Steve Koehler kindly volunteers his time to go up in Town Hall's attic and bring down our Christmas decorations.  Then he sets up our Christmas tree in the Council Chambers.  (The tree was donated to Copper Canyon years ago by former residents of Canyon Oaks.)  And the members of the Copper Canyon Women's Club have for years decorated Town Hall for Christmas and provided homemade cookies for the Santa Party!
Recent Asphalt Tire Tracks on Copper Canyon Road
Denton County's  Precinct Four Commissioner Andy Eads explained the appearance of the recent asphalt tire tracks on Copper Canyon Road's concrete pavement north of the FM 407 intersection.  Commissioner Eads realized that Canyon Oaks subdivision's asphalt residential roads had reached the end of their "useful life."  Canyon Oaks roads are a county responsibility, as the community is not part of any incorporated township.  Many Canyon Oaks residents expressed their gratitude to Eads for the repaving of their residential roads!
However, as the asphalt delivering trucks exited the subdivision, some of their tires tracked the recently poured asphalt onto Copper Canyon Road.  The road contractor assured Commissioner Eads that regular vehicle traffic will soon wear the asphalt tracks off Copper Canyon Road.  It's a tad unsightly now, but a temporary road condition.
Fall Trail Cleanup: Saturday, November 4th 9 a.m. to 1 p.m. 
(Submitted by Deb Schmitz, Chairman: Copper Canyon Trail Advisory Committee)
The Copper Canyon Fall Trail Cleanup will be Saturday, November 4th 9 a.m. to 1 p.m., with a rain date of Sunday November 5th.  We will meet at the 2499 Tunnel, (new parking pad).  Please bring gloves, chain saws, overhead tree limb saws, loppers, etc.  Trash bags will be provided.  EVERYONE IS WELCOME.
Since the recent bobcat work was completed by Rusty Hager's team from Technical Land Construction, Inc.  (TLC, Inc.) in Lewisville, most of what is left is overhead tree limb trimming, and trash pickup.  If anyone has an overhead tree limb saw, that would be very helpful.  There are two loop trails on the North side of the tunnel that need to be re-cleared – if we have enough volunteers and equipment.  Anyone with a heavy duty weed-eater, DL mower, and/or chainsaws would be welcome to help at these sites.  These trails are not wide enough for a standard size tractor and brush hog to get through.
I want to take a moment to thank and recognize Rusty Hager and his team at TLC, Inc. for their fabulous bobcat work on our trails.  These trails haven't had a bobcat on them in at least 8 years.  The TLC team did a fabulous job!!!!
I'd also like to thank Robin and Steve Grider for their help throughout the year, cutting and moving dead trees, helping with the bobcat operator, posting signs, and just about anything else you can imagine.
Many thanks to Jack Satterfield for mowing on the north end of the trail and helping with the bobcat operator.  And, I'm delighted to report that Jack has agreed to be a permanent member of the Copper Canyon Trail Advisory Committee.
Also many thanks to Darryl Snedeker for always being available to mow the Chinn Chapel end of the trail, as well as clearing trees and debris.
I would be remiss if I didn't thank our own Town Council for all the support they give to our Trails.  And Thanks also to our Town Administrator Donna Welsh for arranging dumpsters for the trash our trail volunteers remove from both the trails and the lakeside shores.  And a sincere Thank You to Municipal Services Manager Geri Harwell for providing free dumpsters, courtesy of our trash removal franchisee Republic Services.
Last but not least, many thanks to Commissioner Andy Eads and his team for their support clearing and cleaning up the tunnel under FM 2499.  This tunnel runs under 2499 and is integral to the continuity of our trail.  Without the tunnel connection, our trails are only accessible in two distinct separated parcels.
Since the completion of FM 2499, the tunnel developed a severe drainage problem.  We were unable to ride horses through it due to the muck that accumulated on the tunnel floor.  Pedestrians certainly couldn't walk through the bog, because of the standing water which created a mosquito breeding ground.   It really wasn't the County's job.  But thanks to the support of Commissioner Eads and his Administrator Holly Sadlowski, they stepped up to fix both the drainage issues and paint over the nasty graffiti illustrations on the tunnel walls.  The tunnel is now not only safe but pleasant for all to traverse.
Looking forward to seeing all you Trail volunteers on Nov 4!
CoServ sends Linemen and Specialized Trucks to South Texas and Florida to Help Restore Power after Hurricanes Harvey and Irma.
If you are a member of CoServ Electric Co-op, be very proud of their response to residents in South Texas and Florida to restore their electrical power.  CoServ sent experienced Linemen and huge very specialized bucket trucks to lift the men high into the air to restore the broken and damaged electrical lines.  The amount of specialized equipment accompanying the men was incredible!  But, a Lineman on the ground is far less effective at restoring power than one in the air in a bucket!
CoServ Lineman Bridges Mitchell said in South Texas they awoke at 4 a.m., ate at 4:30 a.m. and were on the road by 5 a.m., returning around 9 p.m.  They also brought snacks to eat on the go.  "I don't think we stopped for lunch one time while we were there," he said.  As they made repairs, residents offered water and drinks.  "For the most part, everyone was very appreciative of us being down there," he said.  Mitchell's 22nd birthday was the same day his crew headed south.  "It's one I won't forget."
South Texas:  15 Linemen, 8 days, 6 Super Duty Trucks, 1 Mule, 4 Bucket Trucks, 1 Cargo Trailer,  2 Digger Derricks, 1 Pressure Digger, 1 Flatbed Truck.
CoServ Operations Superintendent Shea Hassell, a Lineman for 27 years, and crew headed to Florida.  He said "Time passes quickly.  You get focused and look up and it's getting dark."  The part Shea enjoys the most is the response from Co-op Members, who have gone without power for days.  (Imagine 100 degree days, your home and lifetime of belongings utterly destroyed, and no air-conditioned place to retreat from the unbearable, constant heat.)  "That's one of the most gratifying things – to see those people's reactions is pretty special," Shea said.
Florida: 23 Linemen, 11 days, 6 Construction Buckets, 1 Pole Trailer, 2 Mules, 8 Super Duty Trucks, 4 Service Buckets, 1 Flatbed Truck, 1 Cargo Trailer,  3 Material Trailers, 3 Digger Derricks
"More than 50,000 U.S. utility workers helped restore power in Florida after Hurricane Irma.  Electric cooperatives from 25 states joined the unprecedented mutual aid effort and sent 5,000 line workers.  Fifteen Texas co-ops also dispatched crews to South Texas to help with repairs after Hurricane Harvey.  CoServ was privileged to participate in both missions to help our Fellow Texans and Americans." Dawn Cobb
Get a copy of CoServ's November 2017 monthly magazine Co-op Power, and beginning on page 18 read Dawn Cobb's excellent article on how CoServ's Linemen helped restore electrical power in both South Texas and Florida.
LeeAnne Fournier Passes – Copper Canyon and Woodland Neighbor for 27 Years
PHOTO CAPTION:
"LeeAnne Fournier passed away on Friday, October 13, 2017 at the age of 62. She was born in Salina, Kansas.  As the daughter of an Air Force engineer, she spent her childhood years in countries like Japan and England and resided in San Antonio, Texas for many years. She was a resident of Copper Canyon, Texas for the last 27 years where she created a warm and inviting home for her family and friends. She is survived by her husband LeRoy Fournier, daughter Amy Bernethy, son David Lay, granddaughters Kaelyn, Avery and Brynlee, sister Susan Kemp and parents Bob and Cleo Fleming. She is preceded in death by her sister Kathy Fleming-Butler. She was a loving wife, mother and grandma and loved by anyone who met her. She will be greatly missed. A memorial service will be held in her honor at a later date." (Courtesy of daughter Amy Bernethy)
 The Fourniers sold their Copper Canyon home and moved to Granbury in April of 2016. LeeAnne's husband LeRoy can be reached there.
So Many Friends Will Miss Eric Metzger – Flower Mound Fire Chief for 22 Years,  Mentor to Many,  Willing Volunteer "Servant" to Anyone in Need!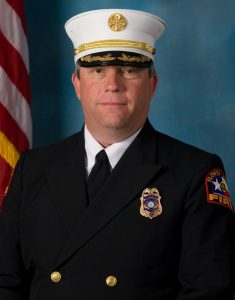 Eric Metzger died last Friday morning at age 57 after a 6 week diagnosis of liver cancer.
Eric and his wife Janice Metzger lived in Copper Canyon in the Woodlands for 9 years.  Their daughter Alison Metzger had already graduated from Marcus High School, but they would raise their sons Ryan Metzger and Aaron Metzger in Copper Canyon.  They were also well known in the Woodlands neighborhood for their love of their "interesting pets."  They had, and have, five Black-capped Capuchin pet monkeys!
During this time Eric was Copper Canyon's representative on the Upper Trinity Regional Water District Board.  He was also a Flower Mound firefighter for 27 years, serving the last 22 years as Fire Chief.
Our Argyle Fire Chief Mac Hohenberger said how much he appreciated Metzger's mentoring when Mac first became our Fire Chief.  And our former County Commissioner Jim Carter said Eric gave invaluable advice on how to get area voters to understand and approve the necessity of our Emergency Services District #1.  ESD #1 would provide funding for quality fire and emergency medical protection for 65 square miles, including five small towns and unincorporated areas of Denton County.  (At that time Eric had already moved to Flower Mound, but he helped us form the ESD #1 as a good "community citizen.")
Eric and Upper Trinity Regional Water District:  When I became a Copper Canyon Council Member 13 years ago, Eric also took me under his wing.  He was committed to my understanding of our Upper Trinity Regional Water District.  Once a month he chauffeured me to the District's Board Meeting.  En route he would review with me the items on the Agenda, each item's background, and any special significance of that item.  He would also explain to me the background of each of the 24 Board members.  It took me a while, but I finally understood how the Upper Trinity Board and the District actually functioned.
Eric is Incident Commander for Massive Home Fire at the top of Orchid Hill: Eric and I shared two "close encounters."  There was a massive fire at a large home at the top of Orchid Hill – a very uncomfortable 1,000 feet from my own home!  Our AFD Fire Chief Mac Hohenberger was at DFW airport ready to fly to another state for the annual exhibition of firefighter equipment and vehicles.
So, Eric, as Flower Mound's Fire Chief, became the Incident Commander for this fire in Copper Canyon.  A hectic hour plus of mutual aid firefighting ensued by the multiple Fire Departments that had responded from surrounding towns.  Then Eric called me and said "Mayor, the fire is under control now, would you like to view it from our command center, Goliath?"  An invitation I was eager to accept!
Goliath is a huge Emergency Command vehicle with front glass panels that soar up possibly 15 feet!  When the vehicle faces the fire, there is an unobstructed vertical and wide angle view of everything related to the fire.  Inside Goliath are control panels that identify every Fire Department that has responded via mutual aid, every piece of vehicular equipment they brought, and every firefighter they provided by name and rank.  In the controlled chaos of an actively burning fire, every individual firefighter needs to be accounted for. And, from Goliath there is direct communication to almost every active firefighter involved.  It was an incredible experience for me! And, I thanked Eric for inviting me to witness the fire firsthand.
Driver Runs FM 407 Red Light: Broadsides and Demolishes My Vehicle: Our second "close encounter" came when a vehicle's driver going west on FM 407 decided to "gun it" through a red light at the intersection of FM 407 and Chinn Chapel.  I had been stopped on Chinn Chapel just south of  FM 407.  When the light turned green, I started north crossing FM 407.  I had barely cleared the line of traffic stopped on FM 407 for their red light, when I thought my car engine had exploded!  The impact was so great that it spun my Lincoln Town Car around and its airbags immediately deployed and impacted my chest.  After doing a quick mental assessment and physical pat down of my body and limbs, I realized no bones were broken.  So, I climbed across the front seat and exited through the passenger door on the other side.  The vehicle that broadsided me was also demolished and in the drainage ditch.  But a young woman had been thrown out of the passenger seat of the car and said she was hurting.  So, I cradled her head in my lap trying to console her and find out exactly where she felt pain.
About this time Flower Mound's emergency vehicles arrived and with them Fire Chief Metzger.  He immediately came over to me and said, "Mayor, I need to take you to Town Hall."  He realized I was in shock.  I didn't.  My Town Car was demolished.  But, because the impact of the car running the red light hit the front of my car, my car spun and the force of the impact was dissipated.  I walked away with only incredible bruises from the air bag and the steering wheel column.  And, once again, thanks to Eric Metzger in an emergency situation.
Eric had Open Heart Surgery at age 6!  Eric had lost a brother and sister at birth with the same heart defect that he had.  But from Eric's blood transfusion during this surgery, he contracted Hepatitis C.  In 1966 blood donors were not screened for hepatitis.  Known complications of Hepatitis C are cirrhosis of the liver and liver cancer.
Son Aaron had already volunteered to give his Dad one of his livers, but Baylor Medical Center thought Eric was too healthy to be eligible for a liver transplant.  But, by the time Eric's liver cancer was diagnosed, it was too far advanced to be remedied by a liver transplant.  From Eric's diagnosis of liver cancer to his death was a mere six weeks.
Eric's life partner for 37 years – Janice Metzger – gave me permission to quote some of her thoughts. (The day after Eric's death.) She said, "We were married at age 19 and 20 and loved our life together!  It was so full and rich!  Six weeks ago life was normal.  But now, our family has lost our patriarch and the love of our lives.  It happened so fast, we didn't have much time to prepare."
Janice said, "No one handled an emergency like Eric.  He took care of all of us and made sure we were all OK….He said God put him here to be a servant in any capacity.  Eric had no patience for arrogance.  He told his Flower Mound firefighters and paramedics that they were 'community servants' first."