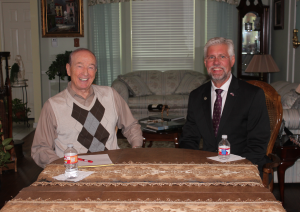 Veterinarian and former Sanger Independent School Board President, Lynn Stucky, has announced his intention to seek the nomination for reelection in the March 6, 2018 GOP primary for State Representative in Texas House District 64.
Dr. Stucky, who was elected to his first term in 2016, wants to continue supporting the issues that he ran on during his first campaign; issues that he has been a staunch advocate for since his election. A native of rural Kansas, Dr. Stucky learned the values of hard work and determination at any early age. His father passed away when he was 11-years old, forcing him and his older brother to farm grain and raise livestock to support their family. His mother was adamant that all of her children go to college, leading him to Kansas State University, earning his bachelor's degree and Doctorate of Veterinary Medicine.
In 1983, he made Denton County his home. In 1986, he bought into veterinary practices in both Denton and Sanger, and in 1997, he opened the Animal Hospital on Milam Road where he still practices today. He also served on the Sanger ISD Board of Trustees for 15 years, including four years as President. In 2007, he was named "Citizen of the Year" by the Sanger Chamber of Commerce. Dr. Stucky and his wife, Lori, a former teacher and coach in Denton ISD, have been married for 30 years and are the parents of three grown children, all of whom graduated from Denton County public schools. During the video interview Dr. Stucky talks about his first term in the Statehouse and the issues affecting Texas residents. The following info comes from Dr. Stucky's campaign website: www.lynnstucky.com
"Dr. Stucky believes that if we model ourselves and our institutions on the teachings of Christ, we will leave our state and nation in a better place than we found it. In his first session in the Texas House, he went to work every day with a steadfast commitment to that ideal, and as a result he helped pass meaningful legislation to secure the border, protect innocent life, shore up healthcare for retired teachers, defend the 2nd Amendment, and support our local public schools, among others. He was also named the Most Valuable Freshman by "Capitol Inside", which has been covering state government for the past two decades, for passing 63% of the legislation he authored – the highest passage rate of any member in the House of Representatives.
"Dr. Stucky promised to make border security a top priority, and true to his word, he was a co-sponsor on Senate Bill 4, which effectively bans sanctuary cities in Texas. This legislation prohibits a local government entity or campus police department from adopting policies that limit the enforcement of immigration law, including stopping a peace officer from inquiring about a detained or arrested person's immigration status. This new law will assist federal immigration enforcement by ensuring that local officials are cooperative with their efforts. Additionally, the new state budget funds border security to the tune of $800 million and includes 250 new DPS troopers to expand operations along the Texas-Mexico border, and increases troopers statewide to a 50-hour work week.
"This was one of the most pro-life legislative sessions in the history of the Texas Legislature, and Dr. Stucky was on the front lines for these important debates. Senate Bill 8, which Dr. Stucky co-sponsored, bans partial birth abortions in Texas, and imposes a state jail felony on anyone who performs one, with the single exception of saving the life of the mother. It also bans "dismemberment" abortions, one of the most horrific assaults on innocent life."
Bob Weir is a former NYPD officer, long-time Flower Mound resident and former local newspaper editor.