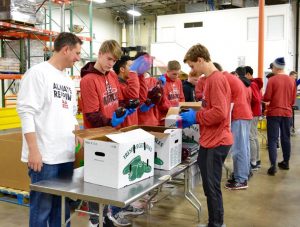 The Marcus High School basketball program recently volunteered at the North Texas Food Bank, helping provide more than 16,000 meals to people in need.
On Oct. 28, two buses departed Marcus High School at 7 a.m. and took 45 players and three coaches to the NTFB Distribution Center in south Dallas, according to a news release, and the team spent the morning boxing cans and working through other donations.
NTFB's Chief Philanthropist Office, Colleen Brinkmann, spoke to the team for about half an hour before they began their volunteer work. The team learned about the importance of giving back and advocating for causes you believe in.
"Marcus High School Basketball looks to find ways for all our stakeholders to experience opportunities to serve others," said Head Coach Clay Cody. "The opportunity to volunteer our time to the NTFB and bring awareness to the fight against hunger will be one of the most important lessons our student athletes learn. Putting others needs before their own needs is the greatest lesson of all."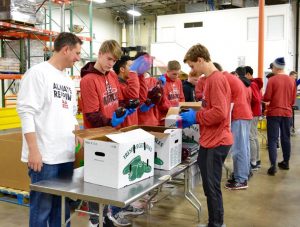 The team worked 2,325 pounds of produce and 17,100 pounds of cans, equating to more than 16,000 meals. They also donated 53 pounds of food, equating to 44 meals.
NTFB is a top-ranked nonprofit relief organization, providing access to more than 190,000 meals each day for hungry children, seniors, and families through a network of more than 1,000 programs and 200 partner agencies in a 13-county service area.
The Marcus boys are also conducting a virtual food drive for NTFB. The team's goal is to raise $2,500 in donations, which will amount to 7,500 meals. Click here to donate.