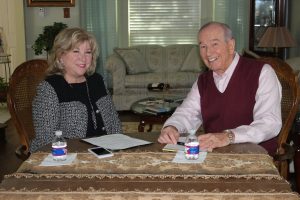 Texas State Senator Jane Nelson (R-Flower Mound) represents District 12, which includes portions of Denton and Tarrant counties.
She is a businesswoman and former schoolteacher who served two terms on the State Board of Education before joining the Texas Senate in 1993. Moreover, Senator Nelson is the first woman in Texas legislative history to chair a standing budget-writing committee. She also serves as Chairman of the Senate Finance Committee, which shapes the state budget and crafts fiscal policy for Texas. Furthermore, in that capacity she also serves as a member of the Legislative Budget Board, a body of five Senate and five House representatives that sets the constitutional spending limit and develops the draft appropriations bill.
Senator Nelson, the highest ranking Republican in the Texas Senate, was listed one of the Top 10 most effective legislators this decade by Capitol Inside. Out of all 50 states, she was selected as the National Distinguished Cancer Advocate of the Year in 2005. She has been named a Fighter for Free Enterprise by Texas Association of Business; "Texas' Best Medicine" by the Texas Medical Association; Most Conservative by Young Conservatives of Texas; and a Champion for Texas Children by Texas CASA.
In addition to all of the above, Senator Nelson is second to none when it comes to passing legislation to protect victims against domestic violence and sexual assault. The numerous Senate bills she voted for include protection against stalking, easier access to protective orders and higher penalties for offenders, just to name a few. Finally, the Senator's commitment to the protection of abused children is well-known throughout the Lone Star State.
During the interview I asked the Senator about the recently completed Special Session of the State Legislature and many other topics coming out of the State Capital, including the so-called "Bathroom Bill." For more information on her legislative achievements, please click on her website: www.senate.state.tx.us/member.php?d=12
Bob Weir is a former NYPD officer, long-time Flower Mound resident and former local newspaper editor.