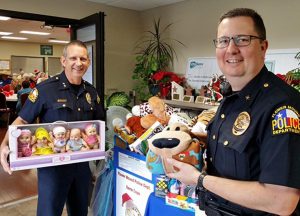 The Flower Mound Police Department is about to start up its annual Santa Cops toy drive and fundraiser.
Beginning Thursday, stop at the Flower Mound Texas Roadhouse, 3811 Long Prairie Road, between 5 to 10 p.m., with a new and unwrapped toy, a gift card or monetary donation to the local Santa Cops program and Texas Roadhouse will donate 10 percent of your bill — excluding alcohol sales — to the program.
Donations will be accepted until Dec. 13 to then be distributed to Flower Mound families in need before Christmas.
There are several other donation sites in the town. Click here for the complete list of donation sites, to recommend a family in need that can benefit from the program and for more information.