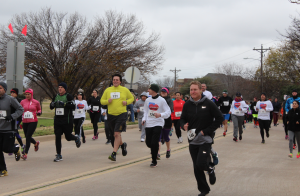 Christian Community Action is preparing for its annual charity 5K this Saturday, and this year's event has special significance to the organization.
The local nonprofit's annual fundraising run will be named the Tom Duffy Memorial 5K from now on in honor of its founder, who passed away in February.
"Mr. Duffy was an avid runner," said Tina Corbett, director of development at CCA. "We felt it was a good connection to pay tribute to him."
All the proceeds from the race will go toward CCA.
For more than 40 years, Christian Community Action has been healing, feeding and educating families throughout Denton, Collin, Dallas, Tarrant and Wise Counties. What started as a Bible study group of seven people in 1973 has grown into an organization of over 150 staff members and more than 2,500 volunteers.
CCA is a social services agency that provides a variety of services to help people in need, Corbett said. Headquartered in Lewisville, CCA is one of the largest private nonprofits in North Texas, providing more than 10,000 individual services each year. It helps people who recently lost their job, are dealing with medical issues and many other hardships by helping them with necessary expenses, helping increase their job skills and more.
CCA also provides spiritual counseling, Corbett said.
"We see people at their lowest points with no one to turn to," she said. "We let them know there's people that care about them."
If you are interested in participating in the race, online registration is open through Friday, and you can also register on-site the morning of the race.
Participants are encouraged to form teams or may run independently. Awards will be presented to the team who raises the most funds and the team who has the most participants.
The 1 Mile Fun Run begins Saturday at 7:45 a.m. at Unity Park and the 5K begins at 8 a.m. Participants are encouraged to stick around for the city of Highland Village's Fall Festival, which will have live music, carnival games, bounce houses, face painting, balloon artist, artisan displays, craft and food vendors and more.
Click here for more information, or call 972-219-4357.