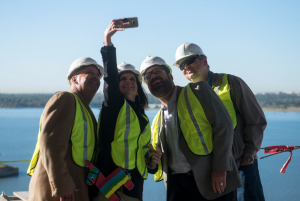 Dozens of local residents and business leaders took a hard-hat tour Wednesday morning of one of the top floors of the Lakeside Tower, which is currently under construction.
The Lakeside Tower rises 15 stories — the top floor will be labeled Floor 16, but the numbers will skip No. 13 — above south Flower Mound and Grapevine Lake. The luxury condominium complex is currently expected to have its first residents move in next summer, according to Alex Brown, vice president of development for Realty Capital, which is developing the Lakeside community.
The town of Flower Mound's Economic Development Office and the Flower Mound Chamber of Commerce hosted the tour as part of their monthly breakfast tours. About 75 people attended Wednesday's tour, one of the largest crowds for the monthly meetings.
The group met in nearby Overture, a luxury 55+ apartment complex that is expected to be finished with construction at the end of the year.

Visitors signed waivers and donned hard hats and fluorescent vests before being lifted up the side of the incomplete structure in a cage-like construction hoist. They stepped off onto a penthouse floors, which was bare concrete floor, ceiling and columns.
The view from the tallest building in the area was remarkable.
Along the south side of the building, you see the eastern half of Grapevine Lake and the trees and parks that line its northern and southern shores. Directly across the lake sits the Gaylord Texan Resort.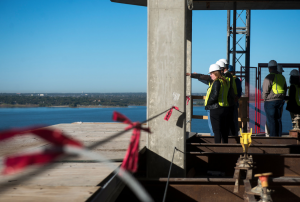 Look southwest, and the downtown Fort Worth skyline is visible. Turn southeast, and there's the iconic Dallas skyline. Other smaller skylines are also visible, and many water towers throughout DFW stick out above the suburbs.
Looking north provides a peaceful view of Denton County that has pretty much only been visible from the air, until now. Despite the sprawling growth of Flower Mound and the surrounding suburbia, trees still dominate the view, which includes the Texas Woman's University towers, by far the tallest buildings in Denton.
The tower's least expensive units start at $745,000, Brown said. The most expensive are selling for nearly $4 million. Thirty-four of its 54 units have been sold.