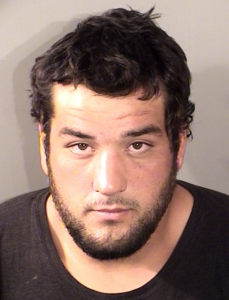 A Denton man who was found passed out in his vehicle in an Argyle ditch had an open beer can, a marijuana grinder and a bag of cocaine in his vehicle, according to a probable cause arrest affidavit provided by the Argyle Police Department.
An off-duty Tarrant County sheriff's deputy was driving home when he saw a vehicle in a ditch on the south side of the 600 block of West FM 407 around 4:30 a.m. on Oct. 21 and stopped to check on anyone inside. In the driver's seat was a young man, later identified as 22-year-old Caleb Roach of Denton, who appeared to be intoxicated, according to the affidavit. Roach would momentarily gain consciousness, then pass out again. The deputy called police.
An Argyle police officer responded and found Roach hunched over the steering wheel. He tried to revive him, but Roach did not wake up while the officer beat on the window and activated his emergency siren for several minutes. Roach finally awoke and complied to the officer's directions and declined medical attention, the affidavit said.
Roach had a strong odor of an alcoholic beverage, and he told the officer he thought he was in Fort Worth. He told the officer that he had been drinking alcohol and smoking marijuana the night before.
The officer could see a marijuana grinder with residue in plain view and an open container of beer in the floorboards, and while searching the vehicle, he found a clear plastic bag with a white powdery substance.
The substance tested positive for cocaine, the affidavit said.
Roach was charged with possession of less than one gram of a controlled substance, a state jail felony, and public intoxication and booked into Denton County Jail, according to jail records.