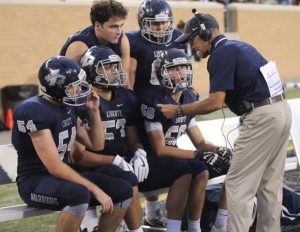 For a man who has been coaching and teaching for more than 20 years, Liberty Christian School's Randy Mayes has experienced quite a few firsts in his short but eventful four years at the school.
Back in March, Coach Mayes – who is as enthusiastic and selfless as they come – went with a group of adults and students to the Dominican Republic to spread the Word of God to whomever was there to listen. It was Coach Mayes' first mission trip, and he was a natural fit. Then, Coach Mayes followed that up last month with a slightly different message as the guest speaker at the first All Pro Dad program of the school year on Sept. 1.
His message to dads: as the head of your household, it is your obligation to not only be a good male influence in your children's lives but to also make sure the other guys in your children's lives are great role models too.
"I have been so blessed that Liberty has given me this opportunity," Mayes said of working at the school and being heavily involved as a role model both inside and outside of the classroom. "Teaching and coaching at this part of my life is more focused on Jesus, and I get to finish up my career the way I want to. This is exactly what I need to be doing."
That giving and selfless attitude is proof that after all these years as an educator, administrator, and coach, Mayes isn't afraid to try something new. All Pro Dad is dedicated to strengthening a father's relationship with his kids through faith. The program was initially started by Super Bowl-winning coach Tony Dungy 10 years ago, and Liberty Christian later adopted its own chapter. The program serves all grade levels and is held at the school on the first Friday of each month at 7 a.m.
The program is geared to have a different topic each week, and though Mayes was new to the program, he quickly grabbed everyone's attention by speaking to his own experiences. The two main male influencers in his own life were his grandfather and later his stepfather. In each instance, both did a great job molding Coach Mayes into the man he is today.
But as Coach Mayes explained, the male influences in his life went much deeper than that.
"The other male influencer who pointed me in the direction of what I'm doing today was my high school football coach, David Visentine," Mayes said. "He helped raise a lot of kids. Others that I had in my life weren't father figures, but they were just really good people, like guys from my best friend to the quarterback on my football team to my two roommates in college. That's why I tried to emphasize, if you are the head of a household, you have to make sure the other guys in your kids' lives are good role models, too. High school kids are spending more time with teachers and coaches than they do at home, so you want to make sure you know who is a part of your kids' lives."
Mayes currently coaches football and track, and teaches American History in Upper School. He and wife, Cynthia, have been married 32 years and have three girls in Katie Bragg (29), Kallie (26), and Kyndal (17).
So how did Liberty Christian land this great guy – and family? As Coach Mayes said, it started with some gentle prodding.
Back in 2014, Mayes was the athletic director for the Lewisville Independent School District. He had held that post since 2008 and was comfortable in his role. But officials from Liberty began asking him if he might be interested in getting back into coaching. Barton Hundley, Liberty's current head football coach, had been on staff at Lewisville High School and was looking to fill out the rest of his coaching staff at Liberty.
The idea was enticing for Mayes, but it also meant jumping back into coaching – something he hadn't done since 2006.
Mayes had coached for more than 20 years, at Odessa Permian, Ennis, and Flower Mound Marcus. He stepped away from coaching in 2006 to become the district's Physical Education Director before taking the AD role.
Mayes always saw himself getting back into coaching, but he was still hesitant.
"I contemplated it for a long time, but I remember one day driving out to watch Hebron play in the state soccer tournament," he said. "I pulled over into an IHOP parking lot, called Liberty, and told the school I was ready to jump in."
It's a decision Mayes hasn't regretted since. He retired from Lewisville ISD in April 2014 and immediately began working at Liberty. It's a marriage that has not only been good for the Mayes family but also for Liberty. The school brought in a man who not only loves kids but is also eager to be Christ-like in all his roles.
"It took a good six to eight weeks to adjust back to that pace of teaching and coaching again," Mayes said. "But everyone was so great at helping me with the transition. Even when I was tired, being back around the kids made me realize that I was exactly where I was supposed to be."
Mayes added, "I'll be honest, there were times when I doubted how smooth this would all be or if I could even do it. But this has been such a blessing. I don't feel a whole lot different than I did in the early 2000s. I could be here another decade – who knows? I'll let the Lord figure that out for me."
-Submitted by Vivian Nichols