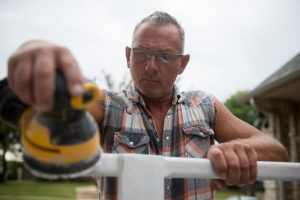 "I make these rocking critters, which I donate to various children's hospitals and battered women's/children's shelters, for the little kids who are going through a tough time," said woodworker and Good Samaritan Michael Lively of Flower Mound.
He started creating his wooden "therapy" rocking animals for children as a form of therapy for himself.
"It started with me being out of work since June of last year," said Lively. "I've been in sales and operations management in the beauty industry until then when the company I worked for moved its headquarters to California. My wife and I made the decision to stay here."
Although actively involved in the job search process (he still is), Lively needed something else– something more tangible– he could control and accomplish.
"My dad made these little rocking animals for my nephews, about 25- to 30-years-ago, and I remembered them. I had all his patterns, so late last fall I started making these critters for kids who might feel better rocking on them." 
The staff members at the Plano location of "City House," a battered women's/children's shelter, shared a positive result of the rocking animals being donated by "Rocking Away the Blues."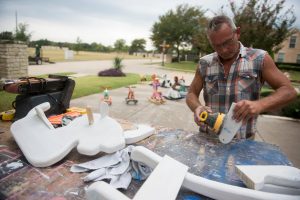 "While the children will certainly have fun with and enjoy the rocking animals, there is an even greater therapeutic benefit afforded by the 'rhythmic motion' facilitated while simply rocking," Lively repeated the staff's insight they'd shared with him.
He'd started his rocking animals– not only horses, but elephants, giraffes, dinosaurs, lambs, unicorns and more– with the idea that they'd be used by sick children in hospitals, for an extended time, with chronic illnesses (like cancer victims), but it turns out that children with behavioral or emotional issues benefit even more, by using the critters as a form of therapy.
"They went on to share that, 'given the fragile psyche many of the small children demonstrate as a result of their exposure to recent emotional trauma, being able to actually interact, e.g., rocking, with a toy such as a rocking animal will likely afford them much-needed comfort," said Lively.
He makes his creations by working in his driveway, across from a park, with only his existing hand tools, because he doesn't have the actual tools like a carpenter. It takes Lively three to four days to bring his critters to life from scratch.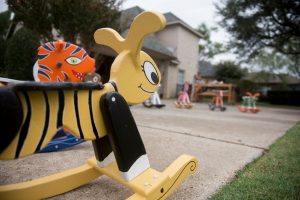 "I learned it all from my dad," he said. "I make as many as I can with what I have. Not having an income, I'm limited by what I can afford for supplies; that's why donations are important."
Lively and his wife have been in Flower Mound since 2002, but his family live in Alabama and Georgia, so he doesn't get home for Christmas often. He showed up unannounced this past Christmas at the Children's Hospital in downtown Dallas and told the people at the reception area what he was trying to do.
"I have to tell you, it is incredibly rewarding to witness the true and sincere appreciation these folks demonstrate when I show up with the rocking animals," said Lively. "It was just for the child. Being childless, I can only imagine how much something like these critters can bring fun and joy. I'd rather do this than any job I've ever had, but there's something beyond rewarding to make a child happy."
"Rocking Away the Blues" will continue making a concerted effort to donate the rocking critters to as many "shelters" as is possible.
"Thank you to one and all who have helped me to keep 'Rocking Away the Blues' alive with your kindness and support," said Lively. He also takes orders for custom-made critters, in addition to those he donates.
Donations are still needed to carry on this mission. Visit fundly.com/rocking-away-the-blues.