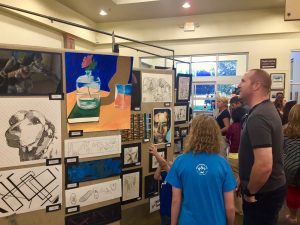 by Elizabeth Brannon and Tom Lohr
Arts Month kicks off on Friday, Nov. 3, from 5 to 7 p.m., at the Flower Mound Public Library with Art Party 2017!
This is the third annual town arts event and it promises something for everyone, from kids to teens to adults. Visual Arts from LISD and the Senior Center will be featured along with works from local artists, including painting and sculpting.
Participants will have a chance to meet artists, as well as instructors.  Rounding out this jam-packed couple of hours will be performances from school show choirs and other local groups.
There will be face painting, snacking on cake, popcorn and punch, plus more for a grand time.
The event will also feature the unveiling of the historical back issue digitization project for The Cross Timbers Gazette.
Art Party gets bigger and better each year and this one is not to be missed.
The next grand local tradition is the 16th Annual Cross Timbers Artist Guild Annual Open Studio Tour 2017, the following weekend on Friday to Sunday, Nov. 10-12.
The Guild was formed to introduce the public to visual artists who live and work in the Cross Timbers area.  The goal was not only to increase the awareness that art thrives in the area neighborhoods, but to encourage interest in the process; and, show how and where art is created.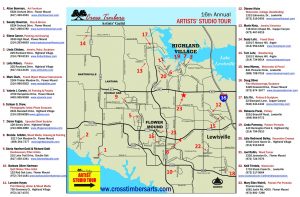 The tour this year includes 26 artists, displaying in 23 studios, who specialize in clay, fiber, wood, glass, metal, drawing, painting, sculpture, and new this year, musical instruments.
Eventually, this column will profile each of the artists of the guild.  Today, we're featuring two of the artists who contribute a lot of work to the Guild – Rebecca Pocai and Brenda Gribbin.
Brenda Gribbin's art is based on forms in nature. The use of charcoal reinforces the image of a plant-form, with the presence of its physical substance. The techniques of directional rubbing and manipulation of pigment, re-iterated lines and selective erasure translates her physical movements into that of the forms themselves; forms that are pushing up from earth, moving in wind, twisting and breaking. The viewer is invited to see familiar forms differently and interact with the simple details and color harmonies of Creation.
Rebecca Pocai, the Guild's outstanding webmaster, draws on her childhood memories of dusty antique shops and industrial warehouses, with those remembered dusty treasures now influencing her work.  She tries to make her work in a fairly consistent manner, formed in a hand-made pattern, much as her father made rough models of fixtures.  Her sculptural work of layering and textures created by spattered glaze, tool marks, hand painted details, or slight imperfections provides the aesthetic her work celebrates.
The Guild artists will open their studios to the public on Saturday and Sunday, November 11 and 12.
The Tour will be preceded by an Open House, Friday, Nov. 10, at 7 p.m. at Premier Gallery, 1681 Justin Rd. (FM 407), Ste. 200, Flower Mound, where two works from each artist will be on display.
Please refer to the map above for locations. More information is available at the Guild website: crosstimbersarts.com.