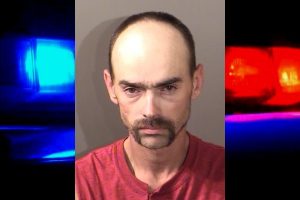 A former police officer chased down an armed burglary suspect Tuesday in Lantana and held him until law enforcement arrived.
The victim said he often plays with his dog in the field behind his house in the 1600 block of Verbena Lane, and he usually closes his garage door but around 1 p.m. Tuesday he left it open.
He said he saw an unknown man, later identified as Brandon Bybee of Denton, walking north along Copper Canyon Road, and then Bybee picked up the pace.
"I thought it was weird, there's never anybody walking there," the victim said. "Then when he started to jog, I knew something wasn't right."
The victim went straight back to his house and saw his car door was not completely closed and someone had rummaged through his garage. His pistol was missing from his car, as were his GPS device and audio recorder. Bybee had left behind a sweater and a pair of sunglasses. The victim reported it to law enforcement and told a neighbor.
Lantana resident Gary Grant, owner of A Cut Above Landscaping, had just pulled up nearby to check on some of his employees when a neighbor told him what happened. Grant said he and the neighbor went to the victim's house and learned the suspect's description and direction.
Grant, who served as a police officer for 18 years, got back in his truck and drove north on nearby Copper Canyon Road and saw Bybee in a field near Copper Canyon and Quiet Hill Circle.
"He saw us and took off running," Grant said, but Bybee complied to orders and stopped.
Grant grabbed Bybee, patted him down, held him down and called the Denton County Sheriff's Office. Bybee was trying to hide a handgun under his foot, Grant said.
Grant encouraged citizens without law enforcement experience, if put in a similar situation, to call police and let them handle it.
Captain Orlando Hinojosa, a Denton County Sheriff's Office spokesman, confirmed that authorities believe Bybee went into the car in the garage, took a handgun and fled on foot.
Bybee was booked into Denton County Jail on suspicion of burglary of a habitation and unlawful possession of a firearm by a felon.