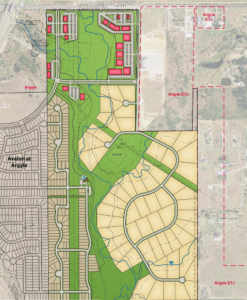 Argyle residents can hear a presentation Thursday by the developer  about the proposed amended plans for Phase 2 of the Avalon community development.
Centurion American Acquisitions has agreed to participate in an optional Program for Argyle Community Engagement (PACE) meeting, in which the developer will give a presentation about its proposed development, answer residents' questions and receive feedback.
The first phase of the Avalon at Argyle development has already received approval. Located near the southeast corner of FM 407 and Interstate 35W, the already-approved area will have 334 residential lots, as well as lots of retail space; mostly along the future I-35W northbound access road.
The proposed Phase 2 features commercial and retail space along FM 407, plus 178 residential lots with a minimum size of 6,000 square feet and 54 lots with an average size of 1.92 acres per lot. Those 54 lots replace the former 169 smaller lots in the previous version of Avalon Phase 2; which was denied by Argyle Town Council earlier this year.
The PACE meeting is scheduled for 6 p.m. Thursday in the Argyle Town Hall community room, 308 Denton St. Click here for more information about the future Avalon development.