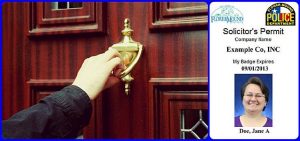 Flower Mound police posted on social media Wednesday some advice about what to do if you encounter door-to-door solicitors.
"We've been made aware that some citizens are experiencing an increase in door-to-door sales people recently," the department's Facebook post says. "If you encounter a solicitor at your door, they must have a Town of Flower Mound Solicitor Permit, like the one pictured."
The department added that the only exceptions to the ordinance is for charity and religious groups.
If you suspect that the person at your door is soliciting without a permit, call the police department's non-emergency number, 972-539-0525.