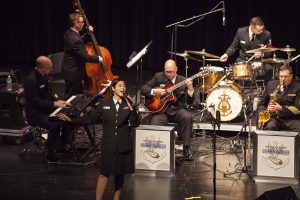 America's Navy is coming to Denton.
The U.S. Navy Band Commodores is about to embark on its 2017 tour of 17 cities in six states, and its second performance will be next week on the campus of the University of North Texas.
"Jazz is America's music and the Commodores, the Navy's premier jazz ensemble, have been performing the very best of big band jazz for the Navy and the nation for almost 50 years," said a Navy news release. "This vibrant, dynamic group is constantly striving for musical excellence and the pursuit of new and exciting ways to communicate with their audiences."
The concert will be family-friendly and entertaining to veterans, families, individuals and those interested in joining the Navy, the news release said. All Navy Band performances are free and open to the public.
The Denton concert will be at 9 p.m. on Oct. 25 at The Syndicate concert hall on the UNT campus. Click here for more information about the location and parking.
The Navy Band will also perform in Arlington on Oct. 26 and in Fort Worth on Oct. 27. Click here for more information about the band's tour.