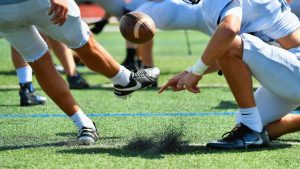 A Liberty Christian School student was injured during football practice and hospitalized this week, but he is recovering and improving.
The unidentified student suffered an apparent back injury during football practice on Tuesday afternoon and was taken by air ambulance to a children's hospital, according to information provided by Argyle Fire Chief Mac Hohenburger and Michelle Simms, a spokeswoman for the school.
"He is doing well and we are praying for a full recovery," said Headmaster Blair McCullough.
Upper School Principal Heather Lytle said the student's CAT scan and MRI "returned clear" and he has feeling and movement in his extremities.
"His fellow football players were sharing a Big Mac with him (Tuesday) night in the hospital, and he was his usual jovial self," Lytle said. "Keep the prayers for a full recovery coming."