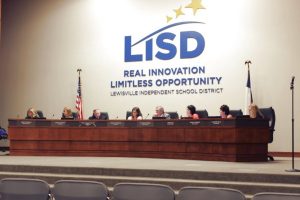 The largest employer in Denton County is inviting the community to come learn about how it runs and "what makes it tick."
Lewisville ISD is inviting residents to participate in a program called INSIDE — Interested Neighbors Staying Informed of District Efforts — to learn more about how the district operates, according to a district news release.
"Most people remember attending school and can probably tell you about their favorite teacher or best subject," Superintendent of Schools Dr. Kevin Rogers said in a prepared statement. "But not many community members have the opportunity to gain an in-depth knowledge of what it takes to run a successful school district like LISD."
Participants get to know the district's leadership team and learn more about the inner-workings of LISD through this in-depth program. According to the district, the three goals of INSIDE LISD include:
• Fostering a single community philosophy
• Serving as a conduit to the 13 municipalities served by LISD
• Engaging the community in an open dialogue format where members can receive an in-depth perspective through campus tours, presentations and discussions of how LISD operates.

The kick-off event will be on Oct. 24 at Bolin Administrative Center, 1565 West Main St. in Lewisville. Each session is scheduled from 9-11 a.m. and addresses a different area of the district's operations. Future meeting dates and topics will be addresses at the first meeting.
To participate, residents must complete the enrollment form by Oct. 20. If you have questions, contact Amanda Brim at [email protected]