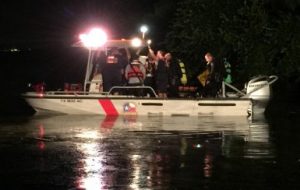 Update: The victim has been identified Friday as 25-year-old Siddhesh Samant by the Tarrant County Medical Examiner's office. No address is listed for Samant.
Original story: A male body was recovered from Grapevine Lake on Wednesday evening, according to the Grapevine Fire Department.
Fire Chief Darrell Brown said someone called 911 to report a possible body in the lake at approximately 5 p.m. Grapevine firefighters responded to the area between Scott's Landing and Katie's Woods Park and located the body.
Grapevine police, Flower Mound Fire Department and Texas Parks and Wildlife assisted with the recovery. The Tarrant County Medical Examiner's office responded and took custody of the body.
As of Friday morning, the identity of the deceased had not been released by the medical examiner.