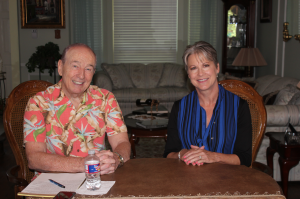 On June 3, Jayne Howell (Republican-Denton, Texas) announced her intention to seek the 2018 Chairmanship of the Denton County Republican Party. Voters will select their chairman in the March 6, 2018 Republican Primary. Howell, a licensed Texas Realtor and Broker, currently serves as Precinct 4001 Chairman and believes her decades of volunteer service in community organizations along with her conservative republican principles are a great fit for the position.
Current Chair, Lisa Hendrickson, has decided not to run for a second term and has recently resigned the post. That means there are 2 announced candidates so far. (John Dillard was interviewed last week after declaring his candidacy.) In the video interview, Jayne (pronounced Ja- nee) tells viewers something about her background, experience and why she wants to lead the Republican Party in Denton. The following is from her press release:
"I have been fortunate to participate in many of Denton County's service oriented organizations and have a strong belief in the organizational structure. Goals are set, bylaws are followed and the group's members do the hard work to achieve benefits for the community," said Howell.
Howell, a fiscal conservative and long-time donor to the Denton County Republican Party, wants to use the Party's committee structure to establish training, voter contact and promotional goals that will educate Denton County citizens about Republican principles and encourage them to utilize their vote to elect Republicans.
"Participation at County Executive Committee meetings seems to be declining. I want to establish active committees and challenge them to set plans for the benefit of the Republican Party. I want to hear from our elected Republicans about their conservative work in government and I want to prioritize our spending on Republican education and training to achieve stronger victories in the General Elections," Howell continued.
Howell believes focusing resources on results is a key part of her leadership plan. The Republican National Committee, the Texas Republican Party and the Texas Republican County Chairmen's Association are constantly stressing the importance of training and education. Howell believes Denton County should follow their lead and prioritize training Republicans and educating voters.
"We are fortunate to have a well funded local party and we should not stand for either the decline of Denton's Republican voting strength or any action that opens the door for liberals in Denton," Howell concluded.
Bob Weir is a former NYPD officer, long-time Flower Mound resident and former local newspaper editor.