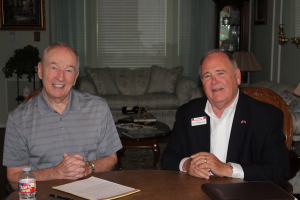 With the 2018 political season about to sprout wings, candidates are gearing up for some spirited campaigns. John Dillard has been a Republican activist in Denton County for over 30 years and served as an elected official for 16 years in the City of The Colony. Now, he's running for the nomination as Chair of the Denton County Republican Party. The current Chair, Lisa Hendrickson, decided not to run for another term. Among his many official titles, Mr. Dillard was a council member in The Colony from 1992 to 2002 and the Mayor from 2003 to 2009. In addition, he has over 25 years with the Army National Guard (49th Armored Division) and Texas Army Reserve, retiring as Lt. Colonel. Currently, he is an assistant precinct chair for Nancy Dillard (his wife of 37 years) in precinct 2022.
John is a graduate of Amber University (formerly Abilene Christian /Dallas) with a degree in Business Administration. He's had a successful business career with an international company as a district manager before retiring and taking a position as a consultant. He's a member of Cambridge's Who's Who of Executives and Professionals; a lifetime member of the National Rifle Association, Texas Rifle Association and former 4H Shooting Sports instructor. In making his declaration for the position, which will be determined by the GOP Primary vote in March of 2018, John made the following statement:
"I am announcing my intention to seek the office of Denton County Republican Party Chair. I believe the chairman of the DCRP should be committed to: supporting the RPT platform; recruiting and training a 'farm team' of future candidates for all levels of elected office, giving our 'boots on the ground,' the Precinct Chairs, the tools and support to educate the voters in their precincts; mobilizing our efforts and resources for victory in every election and building the party through every opportunity available. Denton County is the model for other counties in GOTV efforts, leadership and quality of effective organized precinct chairs. This distinction is a result of years, even decades of committed volunteers and dedicated, strong leadership. I believe that my experience in business, politics, the military and years as a volunteer here in our county uniquely qualifies me for this position."
The Dillard family attends Gateway Church, Frisco campus. John and Nancy have 3 children and 2 grandchildren. In the video, John talks about his background, his commitment to conservative causes, his reasons for wanting the position and the type of campaign he'll be running.
Bob Weir is a former NYPD officer, long-time Flower Mound resident and former local newspaper editor.