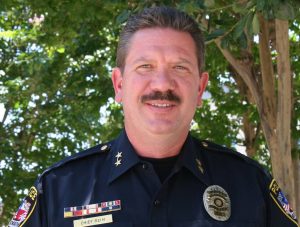 The police chief of Highland Village has been recognized by the Special Olympics Texas as the statewide outstanding volunteer of the year for fundraising.
Special Olympics Texas announced its statewide 2017 volunteer awards on Tuesday afternoon, and recognized Chief Doug Reim who generated nearly $100,000 for the organization last year by putting on many events and activities.
"You can learn a lot of valuable lessons from Special Olympics athletes," Reim said in an interview last month. "It's a unique world to see how much they love and enjoy life."
Reim has been involved with SOTX through the Law Enforcement Torch Run, and for the last several years, he has served as the chairman for Steak and Stetson, an annual country-western affair that provides a steak dinner and boot scootin' fun and entertainment for attendees every September at Circle R Ranch in Flower Mound. All proceeds from that event benefit SOTX athletes in the Greater Fort Worth area.
"We often deal with people in a not-so-good capacity," Reim said last month. "But these kids are inspiring. They don't have a sad moment."
Reim will be formally recognized at an awards ceremony on Oct. 13 at College Station High School during SOTX's statewide Fall Classic competition.