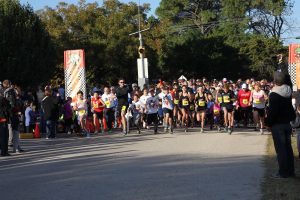 As the weather changes from summer to fall, organizers are again preparing for the Seventh Annual Double Oak Turkey Trot. Each Thanksgiving morning, 950 registered runners and walkers participate in this family-friendly 5k and 1-mile fun run.
Over the years, this event has become a family tradition for many people, so much so that the organizers have had to close registration early for the past four years because they hit the registration limit agreed upon with the town of Double Oak.
Geoff Reese, cofounder of the event, said the race had humble beginnings in October 2010 when he, his wife and friends were talking about what they wanted to do for Thanksgiving.
"We talked about our families running in the Dallas Turkey Trot again, but we all sighed at the thought of dealing with the crowd and traffic," Reese said. "We stopped and looked at each other in silence and we all had the same thought: Why don't we start a turkey trot in Double Oak and have it benefit a local non-profit?"
In three weeks, they put together the event and had 179 registered runners.
"In 2012 we hit 679, and by 2014 we had to close registration early and have sold out each year since then," Reese said. "We never dreamed it would become what it has."
The 1-mile fun run will kick off the 2017 Double Oak Turkey Trot at 8 a.m. on Thanksgiving morning, and the 5k will begin at 8:30 a.m. Runners, walkers, children, dogs, and strollers are welcome at the family-friendly event.
All proceeds of the 2017 Double Oak Turkey Trot benefits funding for inner-city youth programs run by Dare To Serve.
Click here for more information and to register.