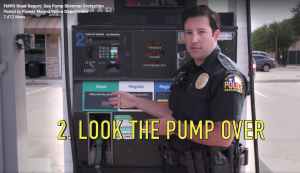 The Flower Mound Police Department offered tips to drivers to help them avoid being victims of credit card skimmers at gas pumps.
The department posted a short video on social media Monday, saying that "identity theft at the gas pump is a growing issue thanks to credit card skimming devices." In the video, Officer James Pulis provided the following tips to help avoid skimmers:
Choose a pump that is as close to the store as possible, because criminals are most likely to target the ones farthest from the store.
Look the pump over. If it looks like there is something new, or there's an attachment that doesn't exactly match the rest of the pump, or if the seal covering the electronics cabinet appears broken, don't use that pump and tell the clerk.
Use a credit card, not a debit card.
Always take a receipt.
Most modern skimming devices are equipped with Bluetooth, enabling the criminal to collect data from a distance of 25-30 feet. Before you run your card, check on your smartphone for a strange Bluetooth device with a long list of characters.
When in doubt, pay inside.
Click here to watch the video.