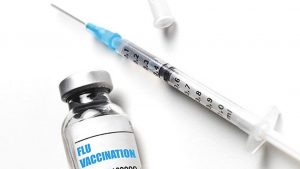 The Denton County Medical Reserve Corps is hosting free flu clinics on Saturday for Denton County residents.
The county will offer the flu vaccination from 8 a.m. until noon, unless it runs out of the vaccine stock before noon. It will be offered on a first come, first served basis.
The clinics will be at two locations — Pilot Point High School, 1300 North Washington St. in Pilot Point, and Chisholm Trail Elementary School, 812 North Keaton Road in Sanger.
The annual flu clinics provide a live exercise opportunity for Denton County MRC to demonstrate knowledge and skills while vaccinating the community to protect against the flu, according to a county news release. Residents are encouraged to proactively combat the flu by pursing vaccination, not only to protect yourself but family and friends. Vaccinating helps safeguard those who are at the highest risk of complications or death from the flu.
Click here for more information on the flu in Texas, and click here for more information about symptoms, treatment and prevention.